The latest from CA-WN Exchange - June 2023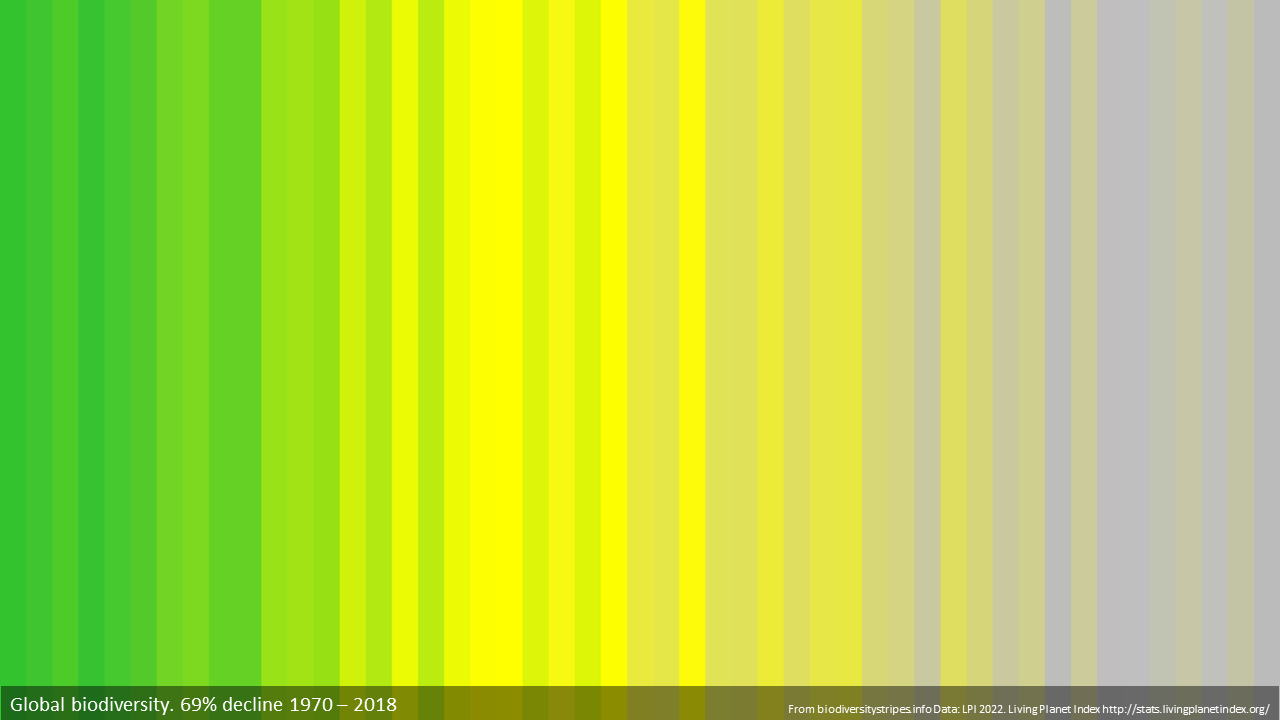 Often when I speak to people about the environment, the primary concern seems to be around greenhouse gas emissions and global heating. Indeed, the headlines that the 1.5-degree barrier will be breached soon (albeit temporarily for now) really do hook you into the media articles; it doesn't take much to visualise the disaster movie extreme weather events that are coming our way. What's harder to convey, however, is the other huge impact of human activity – the ecological crisis that is decimating the biodiversity of species on our planet. Of course, images of sea creatures trapped in plastic bags or news that our hedgehogs are in decline resonate with most people, but what does it matter if we lose a few animals here and there? Actually, it matters a lot. Our ecosystems are highly complex and inter-dependent: loss of one species will have knock-on effects throughout the ecosystem. Humanity has evolved within, and remains dependent on, rich and diverse ecosystems. For example: pollinators that are critical for many of our crops, healthy soils and seas to help sequester carbon, and forests to provide a plethora of natural resources, not least the oxygen we breathe. You may not be surprised to read that globally we have lost around 25% of biodiversity so far, with the UK having lost around 50% of its biodiversity; a loss of 10% is considered 'safe' to avoid ecological meltdown. The stripes above show the 69% decline in global biodiversity from an already depleted 1970 baseline. I first heard about those stripes on 22nd May, which was the UN International Day for Biological Diversity.
As with climate change, mechanisms are in place to try to address the decline in nature – a breakthrough output of COP15, held in December 2022, includes the promise to protect 30% of the planet and 30% of degraded ecosystems by 2030. But as with climate change, we now need to see actions to back up these words.
Biodiversity loss and climate change are not separate though, in fact climate change is one of the main drivers of biodiversity loss especially in polar, mountain and coral reef ecosystems. On the other hand, degradation of ecosystems that store carbon, such as forests, peatlands and wetlands, transforms these ecosystems into carbon sources rather than sinks and contributes to climate change. So, as well as making our outdoor spaces welcoming to wildlife, we can all help nature by continuing to reduce our personal greenhouse gas emissions, keeping pressure on our leaders to put plans into action, and just generally talking about the issue. This is where CA-WN Exchange comes in – hopefully our articles will keep you informed on issues to help spark those conversations.
This month we have Councillor Danielle Stone's view on the dire situation with air pollution and extreme heat in Northampton, Peter Doveston looks into the possibility of re-establishing some of the long-forgotten railway links across the area and Eluned Nicholls of Northampton Living Streets describes the benefits of Walk to School Week that took place last month. A common theme in all these topics is the growing problem of air pollution, of which car travel is a major contributor. Hopefully Clean Air Day on June 15th will help raise awareness of the issue.
CA-WN has been out and about over the past month, at the Greener Byfield village event, Transition Town Northampton's cross-organisation meeting 'Climate Chaos' and the Sustainability Summit at the University of Northampton. Reports from all of these can be found in this issue. On the topic of sustainable food production, Alexina has prepared us a feast for the soul with her report on the future of food production from the team at Eat Curious and Rupert has been hearing about preparations for the LEAF (Linking Environment and Farming) Open Farm Sunday on 11th June.
We welcome a new contributor this month: Luke Costin delves into the environmental hazards of disposable vapes. We also have Northampton Town Football Club's Damon Fox's three things he's changing for climate; on a side note, this weekend Damon will have completed a running challenge of 750km in support of the 7500 children living in poverty in Northampton – there is still time to donate so if you are able to do so please visit www.justgiving.com/page/damon-fox-1678696402252/.
Finally, as well as enjoying this month's regular issue, look out for extra features during Great Big Green Week, running from 10th to 18thJune.
Clare Slater
Latest Posts from the CA-WN Community - it's been a busy month!
🔹CA-WN publishes a rebuttal of an article on Net Zero by Andrew Lewer, MP.
🔹Councillor Danielle Stone speaks out about air pollution
🔹Our latest Council Watch is a good news story
🔹CA-WN's newest contributing writer, Luke Costin, takes an in-depth look at the environmental problems associated with vaping
🔹Luke also provides our podcast recommendation, the Big Green Money Show, featuring Deborah Meaden
🔹Peter Doveston's interview with the English Regional Transport Association puts the spotlight on railways
🔹Northampton Living Streets reports on the success of Walk to School Week
🔹Damon Fox from Northampton Town Football Club shares his Three Things for Climate
🔹Patsy Hollingum's latest recipe is a delightful medley of salads
🔹We report back on events CA-WN has attended: Climate Chaos, organised by Transition Town Northampton; the University of Northampton's first Sustainability Summit; and a lovely family event put on by Greener Byfield
🔹Attendees at the University event were catered for by local company Eat Curious, who are featured in Alexina Cassidy's latest Business as a Force for Good item
🔹Bookshelf this month looks ahead to Clean Air Day on June 15th, with a review of Tim Smedley's Clearing the Air
🔹Don't forget LEAF Open Farm Sunday if you are looking for a slightly different family outing