Take a step outside in any town or city across the UK and you'll more than likely be met with plumes of fruit-scented vapour, or notice the colourful vapes littered on the streets. E-cigarettes, also known as vapes, are a relatively new concept. They were introduced to the UK in the mid-2000s, but it wasn't until 2021 that these devices rose to fame.
Disposable vapes – from brands like Elf Bar and Elux, come in a variety of bright, attractive colours and a range of flavours including grape, strawberry, and watermelon. And appearing aesthetically appealing to younger adults, they're a far cry from the original e-cigarettes that were designed to mimic the traditional tobacco cigarette.
These disposable vapes are powered by lithium-ion batteries housed in plastic casings, meaning that while these devices are classified as Waste Electrical and Electronic Equipment (WEEE), consumers cannot discard them in their household waste or recycling. Therefore, consumers must dispose of their vapes at household recycling centres, the shop they bought them from if disposal services are provided, or at a supermarket's in-store battery recycling point.
But despite this, The Eco Experts have suggested as many as 50% of vapers misunderstand this fact and throw them away in their general waste. But they also believe the blame is to be shared with disposable vape manufacturers. The environmental site proposes that manufacturers should alter their packaging to make the message around their recyclability clearer, and that education around how vapes can be disposed of ethically is improved.
However, until each disposable vape is recycled properly, the incorrect disposal of single-use vapes has the potential to release plastic, electrical, and hazardous chemical waste into the environment, according to the House of Commons Library.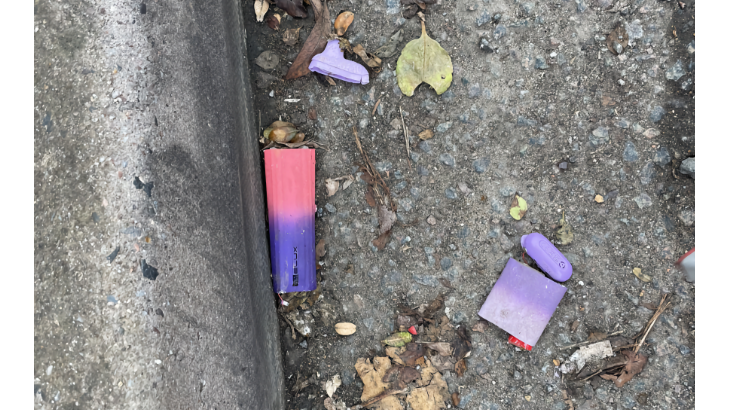 This prompted a number of charities and organisations to write an open letter to the government calling for a ban on so-called disposable vapes in November last year. Think tank and charity Green Alliance was just one of the 18 signatories on the letter to the health and environment secretary warning the mass production of single-use vapes could hinder the transition to net-zero in the coming years. The charity advised that the battery contents of disposable vapes are critical materials for the transition, including for manufacture of environmentally-viable products, and warned that lithium discarded from disposable vapes is equivalent to the same needed for 1,200 electric vehicles.
But despite this worrying information, data suggests the boom in vaping shows no signs of slowing down. According to GOV.UK, vaping prevalence in England in 2021 was around 7%, equating to between 3.1 and 3.2 million adults who vape. In addition, the popularity of disposable vaping products has increased among those who vape by 15.2% in 2022, compared to 2.2% in 2021.
In addition, data collected by Vape Club, one of the UK's largest online vaping retailers, revealed that there was an 883% increase in age-verified sales on their website, with the growth suggested to be attributed to the resurgence in popularity of Elf Bar products.
Furthermore, research commissioned by Material Focus last July identified that 1.3 million single-use vapes are thrown away each week in the UK, which across a whole year is enough to cover 22 football pitches. The study also uncovered that the number of disposable vapes thrown away are contributing to the fastest growing waste stream in the UK, with more than 155,000 tons of electrical waste thrown away each year.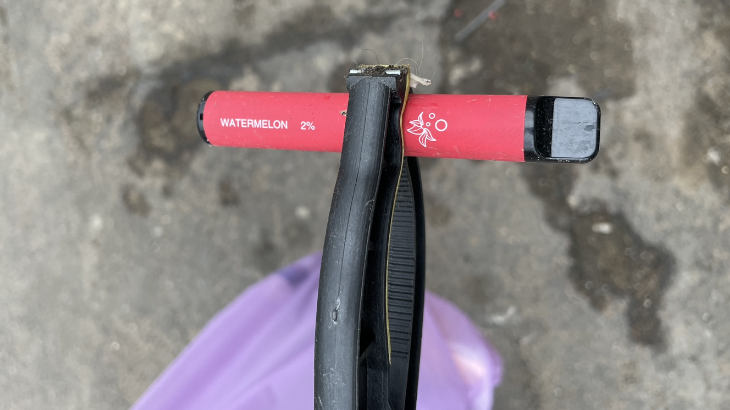 Elf Bar is just one of hundreds of businesses manufacturing and selling disposable vapes in the UK and is one of the most well-known brands internationally. The company is renowned for its disposable vapes, such as the Elf Bar 600, which is designed to provide up to 600 puffs to the user and are easily accessible to purchase online or in-stores.
As concerns continue to grow surrounding the impacts these devices will have on the planet, CA-WN approached Elf Bar to ask what the business is doing to minimise its product's impact on the environment. Elf Bar said: "As a pioneer and innovator of vaping technologies, we have been implementing environmental protection programs and carrying out recycling initiatives in various countries since last year. This includes Ireland, Romania, and Cyprus, where recycling services are provided in over 3,000 stores.
"As part of this initiative, a select group of our vape retail partners, such as MyCigara, Evapo, and Tidal Vape, have already joined our pilot program. These outlets have committed to installing dedicated recycling bins for used ELFBAR products in their UK-based stores, effectively paving the way towards environmentally responsible consumption. To further enhance our environmental commitment, we have partnered with Recover, one of the UK's most established lithium recycling companies, to handle the collection and transportation of the discarded devices from these retail outlets."
As the trend of vaping continues to surge, reusable and refillable vapes are currently the most sustainable device offered to customers. Right Vape, found in Kingsley, Northampton, is one of many e-cigarette stores across the country selling disposable vapes, but ethically encourages its customers to move to reusable and refillable devices. Chelsea Torpey, Stop Smoking Specialist at Right Vape, said: "As a vape shop, we do sell disposables, however, one of the brands we sell the most of is Riot Bars. These are the first carbon negative disposables and are fully recyclable. "The disposables are made with a PLA casing, which is then "made into records and clothing to be sold for charity", the battery is also removed and "reused" in future Riot Bars and other electrical goods. "In order to incentivise the recycling of these products among our customers, we offer a return scheme 'bring back 10 Riot Bars to recycle and get a free Riot Bar', which has proved to be successful in encouraging people to properly recycle their Riot Bars with us."
Despite selling disposable vapes, it would seem that the store is no stranger to the potential impacts these single-use vapes can have on the environment and the possible risks posed if these products are discarded inappropriately. She added: "We do not endorse the use of single use, disposable vaping products. We advocate the use of refillable devices to all customers. When encouraging customers to move to a refillable device, we highlight various factors, including more control over nicotine strength, more reliability in testing, the cost, and the impact that disposables have on our planet. When a customer comes in looking for a disposable, we always engage in a conversation with them, ensuring they have all the information regarding the impact of disposables, such as the lithium battery inside, which can't be disposed of in normal waste bins."
Luke is a second year student at the University of Northampton studying Multimedia Journalism and Creative Film, TV and Digital Media. He has an interest in social, climate, and environmental affairs including litter pollution, and sustainable food and household goods models.