Tuesday 28 November - Wednesday 6 December
Public Inquiry for the Save Weekley Hall Wood Campaign, Thrapston
Thursday 7 December
People, Planet, Pint Alternative COP28 Event
Saturday 9 December
Global Day Of Action, Market Harborough
Saturday 16 December
Blackbird Learning Circle End of Year Get Together
Wednesday 10 January
CA-WN Climate Cafe (online)
Thursday 18 January
CA-WN Monthly Meeting (online)
Saturday 24th February
Free game of Climate Fresk
Saturday 23rd March
Free game of Climate Fresk
Full details of all events below
---
Public Inquiry for the Save Weekley Hall Wood Campaign
Tuesday 28 November - Wednesday 6 December, North Northamptonshire Council Offices, Cedar Drive, Thrapston NN14 4LZ
This is the final chance to prevent the warehouse development at Weekley Hall Wood and meadow, as the application has been taken to the Government Planning Inspectorate. Local residents have been campaigning and fundraising tirelessly for a long time to get to this point.
Members of the public can attend throughout the 8 days of the inquiry. More details here.

Climate Cafe
Wednesday 13 December 7:00pm - 9:00pm, The Umbrella Fair, the Racecourse, Northampton
A fortnightly climate cafe providing a space to meet with others who share concerns about the climate crisis & ecological crises and their impacts, and opportunities for creativity. More details on the UFO (Umbrella Fair Organisation) Facebook page https://www.facebook.com/UmbrellaFair
Planet, Pint - COPPP28
Thursday 7th December 6:00pm - 8:00pm, Brampton Halt, Pitsford
Nationwide sustainability event Congress of the People Planet Pints (COPPP) is coming to Northampton on Thursday, December 7. An alternative to COP28, it is part of a nationwide party to empower people to take action in their local community and highlight the great work that is already going on.
https://www.eventbrite.com/e/northampton-coppp28-people-planet-pint-sustainability-meetup-tickets-694000322647?aff=odcleoeventsincollection&keep_tld=1
Global Day Of Action
Saturday 9 December 1:00pm - 3:00pm, near the Old Grammar School, 40 The Square, Market Harborough, LE16 7PA
Event organised by Sustainable Harborough to draw attention to COP 28 and the need for urgent action. There will be short speeches and climate chants - come along with your placards and whistles and drums or just yourself.
Blackbird Learning Circle End of Year Get Together
Saturday 16 December 6:30pm - 9:30pm, Abington Community Centre, Wheatfield Road South, NN3 2HH
At this event we will share food and talk about the direction for building pro-active community in Northampton. Find out more about the Learning Circle here https://www.blackcurrent.uk/2023/07/28/blackbird-learning-circle/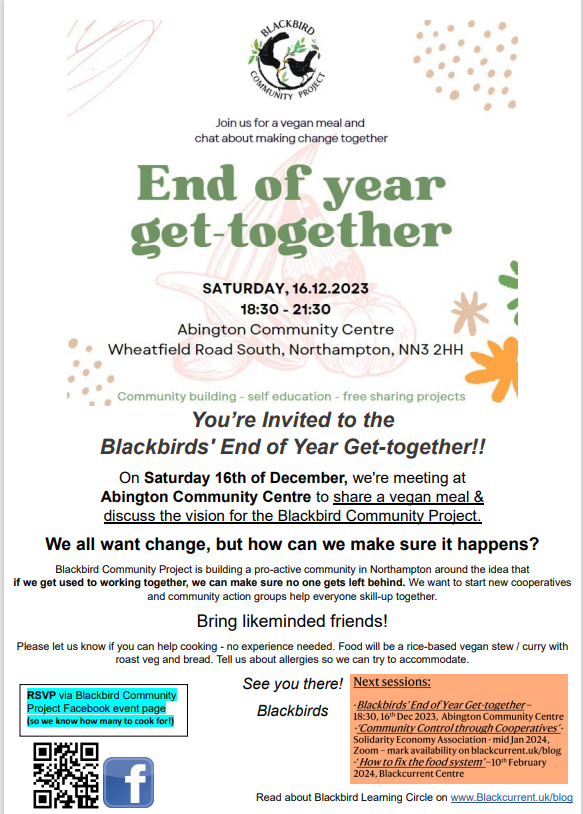 CA-WN Climate Cafe
Wednesday 10 January 2024 8:00pm - 9:00pm (online)
Open to everyone, wherever you are. We offer a safe space to talk about thoughts, concerns or questions related to climate change. Register for free to receive a Zoom link.
https://www.eventbrite.co.uk/e/climate-cafe-january-2024-tickets-756372920767?aff=oddtdtcreator
CA-WN Monthly General Meeting
Thursday 18 January 7:45pm - 9:00pm (online)
Meeting open to all - newcomers welcome.
Our guest speakers this month ate Hannah Bedard and Ellen Worrell from Green Welford, who will give us a very condensed Carbon Literacy training course.
https://www.facebook.com/GreenWelford/
https://carbonliteracy.com/
Register to receive a Zoom link for the meeting.
https://www.eventbrite.co.uk/e/761401631777?aff=oddtdtcreator
Saturday 24 February and Saturday 23rd March 2:00pm - 5:00pm, Northampton
Join a free game of Climate Fresk with Maria Lee, trained Climate Fresk facilitator. Climate Fresk is a interactive tool for climate education and discussion.
Get in touch to book a place for one of the sessions, or with any questions.
South Court Environmental have a full programme of creative and educational community events: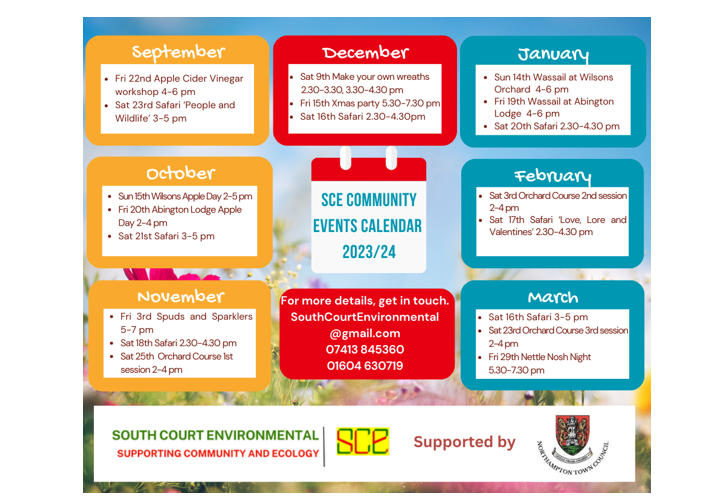 Friends of the Earth training and events
CA-WN is affiliated to FoE as a Climate Action Group, which provides benefits including access to their training and events. This includes on 19th April an introduction to Active Hope, a resilience and wellbeing practice designed to help us find and offer our best response to the crises unfolding in our world. Details and booking: https://groups.friendsoftheearth.uk/training/training-and-events.
Regular CA-WN events
2nd Wednesday of every month online Climate Café 8:00 - 9:00 pm
3rd Thursday of every month General Meeting (online) 7:45 - 9:00 pm

All Climate Cafes and general meetings are free and open to all. Find out more and register for free on Eventbrite https://www.eventbrite.co.uk/o/climate-action-west-northamptonshire-34423488393
Please note there will be no monthly meeting or Climate Café in December.