Learning Our Lines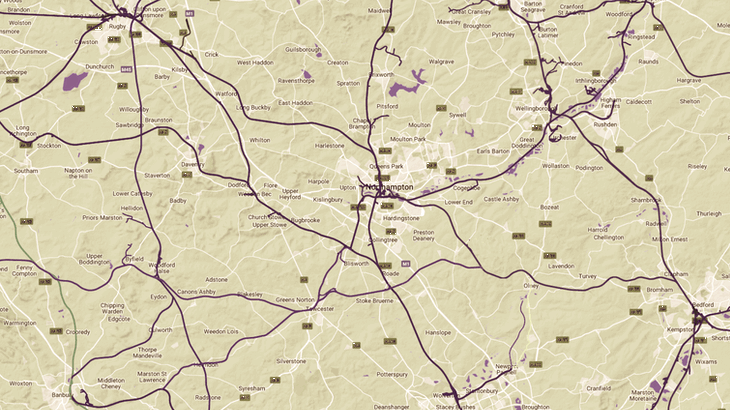 West Northamptonshire was once well serviced by rail. On the Grand Central Line there were stations at Brackley, Helmdon, Culworth, Woodford Halse and Charwelton. The Stratford-upon-Avon and Midland Railway hosted Byfield, Moreton Pinkney, Blakesley, Towcester and Stoke Bruerne. The London North Western serviced Roade, Blisworth, Weedon and Daventry. Northampton Town had 3 stations. We live in different times and due to diminishing bus services the car is a necessity in a lot of these places today.
It is unrealistic to imagine a time when all of these stations reappear. However, is it quite so wistful to imagine a strategic reopening of certain former railway lines? I speak to Professor Andrew Williams, a Patron of the English Regional Transport Association, an organisation championing such an idea. We begin talking about the Northampton to Bedford line but our focus eventually turns to the Northampton to Market Harborough line.
"We must be realistic and put first things first" says Andrew. "Nothing will come of these former railway lines before a feasibility study is carried out. The government wants proof of feasibility and of local appetite for schemes before you can then apply for funding". Andrew points to the £150 million project to reconnect Bristol Temple Mead with Portishead as an example of where great progress has been made following its own feasibility study.
Andrew turns to the Northampton to Market Harborough line which opened in 1859 and continued right up until 1981. It is his belief that this line is central to any consideration of reopening Northampton to Bedford (a railway for which a bid was made to the Restoring your Railway Ideas fund back in 2021. This was for funding to develop its own case for reopening).
"Northampton to Market Harborough opens a connection to the North that Northampton vitally needs" points out Andrew.
It would be a valuable connection, a train from Northampton to Market Harborough would provide a link to the East Coast Mainline allowing journeys to Leicester and Nottingham among others.
"Provide this northern connection and the case in favour of a Northampton to Bedford line becomes stronger, think about the freight connections for Brackmills".
Why don't we just do a feasibility study? I ask Andrew naively.  

"The study itself costs £80,000" he replies.  

It becomes more complex, there are no pots of government money that can be applied for at present for the purposes of such studies, as of 2021 the government's 'Restoring your Railway' Fund has not accepted new proposals. The money will have to come from somewhere else.

Money is just one problem of course. There are other issues and it is likely that CA-WN readers, discerning as they are, have already thought of a couple.  

The route of the old Northampton to Market Harborough railway is now the popular Brampton Valley Way which also includes a restored steam railway frequently enjoyed by visitors. Wouldn't a regeneration of the former railway affect these locations?

"This is precisely what the feasibility study is for" says Andrew. "It can take into account the potential challenges, for example; the steam railway, the footpath, the houses that now sit on the former line in Market Harborough and the road crossings at places like Draughton".

"The reopened railway line can co-exist alongside the steam route. I am a huge supporter of the work that has been carried out along Brampton Valley Way and would never want to see it affected negatively. I believe that there are viable solutions here". Andrew adds particular emphasis to this point.
(NB - After writing these articles, I contact the contributors to make sure they are happy with what I have written. One point Andrew reasserted was that he really wanted me to make clear his respect for the Brampton Valley Way supporters and Northampton to Lamport Steam Railway. He re-emphasised that any plan of reopening the Market Harborough line would have to be made working with these stakeholders and not be imposed upon them).
Indeed, there are examples of railways that have reopened and worked alongside enjoyment of the countryside, over in Gloucestershire plans for a rail link between Cirencester and Kemble include a cycle track and footpath.
A well thought out plan that takes into account the priorities of local people could provide much needed stimulus to the area. Up and down the country line reopenings are being considered and where they have taken place they have proven more popular than initially anticipated. The Borders Railway between Edinburgh and Tweedbank, reopened in 2015, proved so popular that overcrowding became an issue.    

Here Andrew gives warning. "Any plan must be future proofed. We must anticipate that it will be popular. We must also anticipate changes to local infrastructure. For example, if it was decided to build a bridge over the A508, should the bridge take into account that at some point that road might be dualled? These are things the feasibility study would consider".
Future proofing is one of the arguments climate activists have in their arsenal. Arguments that include energy security, health and well-being related savings etc. Here, in green transport alternatives, we must embed the future in any of the decisions we make.
Andrew offers further warning that whilst the ideal scenario would be for a fully electrified track, it is possible that initially the proposed railway line could be diesel run. I can hear you wincing CA-WN readers, but allow me to elaborate. Diesel is not the end game here and currently we have hundreds of diesel fuelled lorries travelling between Northampton and the north each week. How many of these could be replaced by much more fuel-efficient rail freight if the infrastructure existed? Infrastructure that could be electrified at a later date.  

I know too that residents in Brackley will be particularly suspicious of Railway talk given that HS2 sits right on their doorstep however it is important to realise that the reopening of old railway lines causes nowhere near as much upheaval as the cutting of completely new lines.  

"A great bulk of the work is already sunk in when it comes to reopening old tracks. The ballast will need to be replaced but the route has long been cleared" says Andrew. This is not the case with HS2 where new infrastructure is required at each stage in order that it move forward.
As so often with the arguments in favour of sustainable travel infrastructure, the economic argument is compelling. Northamptonshire is a central county within the UK and distribution is a huge industry, you need not go very far before you see the multitude of warehouses in our area. People are always going to need goods, goods are always going to need to be transported. How we transport them is up to us. Rail freight is a legitimate means of transport and Northamptonshire has already been earmarked for its rail freight potential, read more in this article about the Rail Freight Interchange being built between Milton Malsor and Collingtree.

Courage will be required when we face decisions about our sustainable future. Courage that we will need to process changes to a landscape we have grown familiar with. However, it is my belief that when we talk about reopening the lines between places like Northampton and Market Harborough, what we are talking about is putting back connections that should never have been removed.  
What can CA-WN Readers do?

Andrew tells me two things. Firstly, email your MP and your local councillors and ask about the potential for a feasibility study for the reopening of the Northampton to Market Harborough line.  

Secondly, if you are interested, join the ERTA. Have a look at the website and you'll see there is all sorts of potential for West Northamptonshire including the possibility of stations in places like Woodford Halse and Daventry.