LEAF OPEN FARM SUNDAY at Brixworth Farms
Sunday 11 June, 10:00am to 4:00pm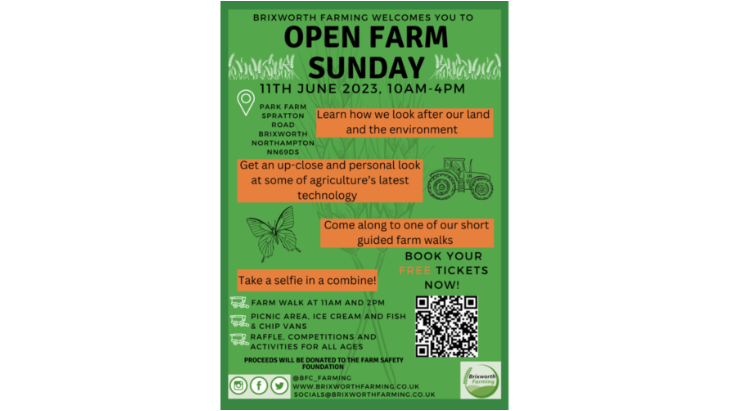 This morning I went to Park Farm (Spratton Rd, Brixworth, NN6 9DS) to see how preparations are getting on for the farm open day.  I met Jessica and Charles who are heavily involved in the organisation and are very excited to be welcoming members of the public to see where they work.
Invitations to farms like Brixworth are rare and this is a great chance to see how a modern, large scale arable enterprise operates.  There will be seriously large machinery to see close up including a colossal combine where older children will be able to climb into the cab to see the gadgets and understand how they help precision management.  But these gadgets are not just for fun.  For example, one tractor has a camera mounted that continuously monitors the growth and health of the crop and automatically adjusts the amount of fertiliser applied as it is being spread.  Not only is fertiliser expensive, applying more than the crop can use leads to pollution of ditches and streams.
Brixworth Farms is a cooperative of neighbouring landowners who share management, machinery, storage and marketing.  They are members of LEAF (Linking Environment and Farming) which means that they take the environment, climate, bio-diversity and customer safety very seriously. There will be two guided walks, a self-guided tour leaflet and a visit to a butterfly field with an expert.  On my visit, the sky was filled with swirling and calling house martins, so birdwatchers bring your binoculars.  As well as wheat for Shredded Wheat, the farm grows barley, oats, canary seed, beans and oil-seed rape.  There are plots set aside for pollen and nectar and other nature.
While enjoying fish and chips or an ice cream, the farm manager, Ian Matts, and his staff will be about to answer all those questions about food and farming and the countryside that have been bothering you. What is regenerative farming?  What does 'organic' really mean?  What is a cover crop? You will get true answers from an expert! Book your visit here.
Note that there are no animals on this farm and the smallest toddlers may get bored.  There are other farms with animals open in Northamptonshire – click on the link below and put in your post code.  For the rest of the family, this is a brilliant opportunity to see and learn what is going on in the countryside at first hand.