The latest from CA-WN Exchange - April 2023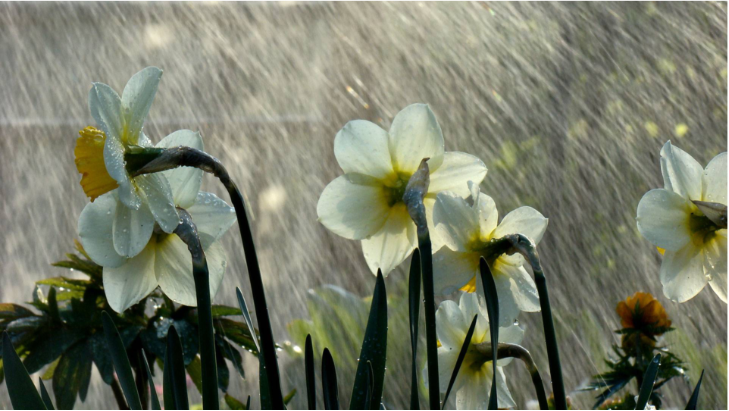 Reflecting April's temperamental weather of sunshine and showers, the climate movement has a dichotomy of approaches that are being used to try to effect change. Although we are all aiming for the same goal, the differing approaches can sometimes rile the other 'side': the disruption caused by civil disobedience is denounced by many, while the snail pace of the more pragmatic approach frustrates many others. Given the enormity of the challenge we need everyone pulling in the same direction, not undermining one another, and surely there is the room and the need for a variety of approaches?
We'll need more plant-based diets, but also regenerative agriculture; we need to reduce road travel overall, but also have some electric vehicles; we need to cut down on the amount of 'stuff' we buy, but also support those businesses that are adopting sustainable practices. We need to understand and embrace all approaches, and to remember that everyone is viewing this from a slightly different angle. For me, like Emmie (My Three Things for Climate Change), it is important to connect with people who truly understand the gravity of the climate crisis and I'd like to think that I can help support and boost those who choose a different approach. While we remain in the minority, we need to coalesce our collective voice and get our message to those who need to hear it, loud and clear!
So grab a cuppa and find out more about some of the area's ongoing projects in this issue of CA-WN Exchange. Peter Doveston describes the conception of the exciting plan for a new Active Quarter in Northampton and Councillor Rosie Humphreys' My View includes an insight into Active Travel plans unfolding in her ward. We also hear about an inspiring collaboration with Illustration students at University of Northampton, and an innovative business approach to turning one person's trash into another's treasure.

Clare Slater
---
Latest Posts from the CA-WN Community
🔹Watching Plants Creeping Northwards - Brian Laney, one of the Northamptonshire County Recorders of plants, on four species that are making their way north due to climate change
🔹CA-WN collaboration with University of Northampton students - how to communicate climate activism
🔹Time for a New Quarter - Peter Doveston from the Northants Streets Campaign  writes about the exciting proposal for a new Active Quarter in Northampton
🔹Offsetting and Carbon Trading - CA-WN's farming correspondent, Rupert Knowles, considers the problems and potential of carbon and biodiversity offsetting in agriculture
🔹Business as a Force for Good - an insight into the serious business of waste management and the work of an innovative market leader based in Northants
🔹Council Watch - a look back at the achievements of West Northamptonshire Council over the last 12 months
🔹Bookshelf and Podcast Shelf - read/listen to the latest suggestions from the CA-WN Community (if you would like to contribute a recommendation for a book you have read or podcast you love on a climate or environmental topic do get in touch)
🔹My Three Things for Climate Change - Emmie Williamson, Clinical Psychologist; Green Party parliamentary candidate for South Northants; Co-Coordinator of West Northants Green Party; Coordinator of Flore Climate Group shares her efforts
🔹My View - CA-WN gives a Councillor the space to speak about climate action. This month we hear from Rosie Humphreys, Lib-Dem Councillor for Braunston and Crick
---
What's on in April and May