UoN – CA-WN collaboration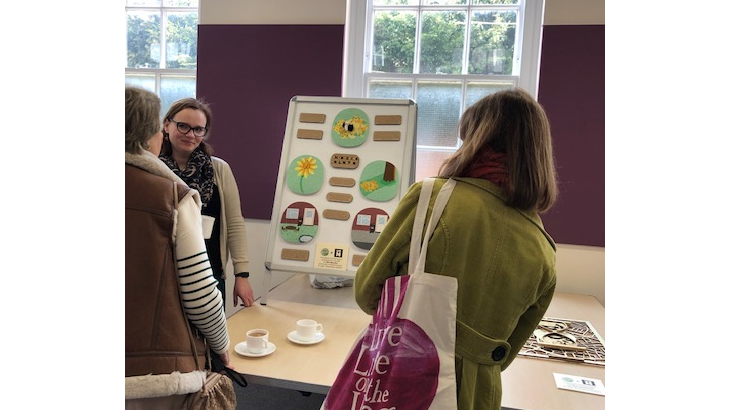 CA-WN had been invited by Zoe Taylor, Senior Lecturer in Illustration at the University of Northampton, to set a project for second year Illustration students. CA-WN outlined the practical problems of communicating the many facets of climate change and students each came up with three suggestions that were discussed before choosing one to further develop.
Bat Mendes came up with a prototype activity board that illustrates the everyday progression of the bumblebee, a children's favourite creature, from its home nest out to collect nectar, finding nothing in a paved yard then lighting upon wildflowers and taking nectar on board before returning home to the hive. Bat crocheted realistic looking bees with an embedded magnet that a child could pick up and place on illustrations each with their own magnet - except for the illustration of the 'garden' that is not at all bee-friendly. The prototype board was field-tested to great success  by visitors at the March Tea & Cake with CA-WN event in Towcester.
Zoe Anderson chose to illustrate the theme of Time is Running Out with a brilliant egg timer that rotates over a cut out map of Northampton town centre to illustrate the pollution differences between active travel versus private car use.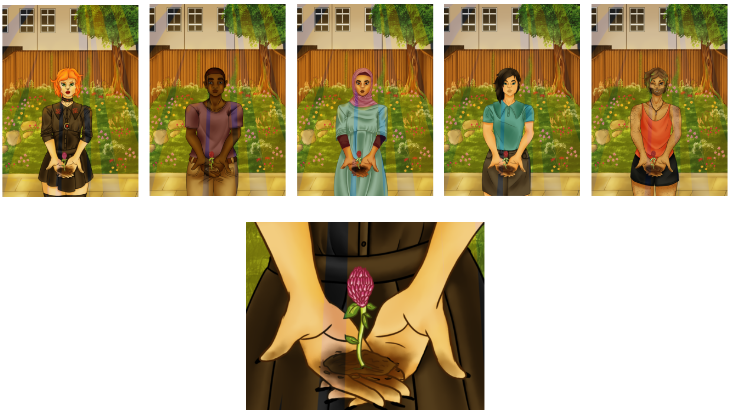 Alexandra Turbok illustrated how a diverse community can deliver biodiversity by sowing seeds and germinating them in their own patch of land.

Logan Moennich gave CA-WN a rich library of multi-layered graphic images based on his own photographs that might be used to illustrate articles in the CA-WN Exchange. His suggestion of a Zine was a great idea but wasn't a practicable proposition in the time available.
Jessica Dennis came up with three brilliant suggestions, an interactive rewilding activity game based in Becket's Park in Northampton, an idea for flat-pack DIY bug housing, and a suggestion for transforming the CA-WN Claim Back Your Space booklet into a children's illustrated step-by-step guide. CA-WN will definitely take this very welcome idea to widen the the booklet's reach.