popcawn - October 2023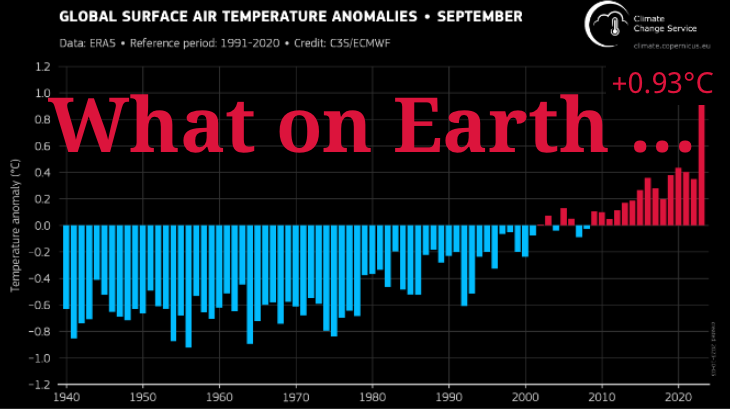 Climate change and biodiversity loss together pose an existential threat to humanity that warrants an urgent response from everyone – from national governments and multi-national corporations to community organisations and individuals. Unfortunately, where national governments are involved environmental policies inevitably become politicised, when ideally issues of such global importance should be above party politics.
We saw this play out acutely last month when Prime Minister Rishi Sunak declared U-turns on green policies, from behind a lectern emblazoned with the slogan 'Long-term decisions for a brighter future'. Listening to the opening lines of his speech you could be forgiven for thinking he'd finally heeded the warnings from the Intergovernmental Panel on Climate Change and the government's own advisory panel that we need to cut emissions further and faster than the previous policies had dictated.
However, it soon became clear that the government either doesn't understand the science, or simply doesn't really care about the long term. Given the unexpected Conservative hold at the Uxbridge and Ruislip by-election on the basis of opposition to ULEZ, the cynical among us may suspect the Tory strategists are seizing an opportunity in the face of poor polling as we look forward to a General Election within the next year.
Perilous climate change aside, the raft of policy changes sold with a focus on cost-saving benefits for individuals may actually end up having the opposite effect, with higher home heating fuel bills, especially for renters, and lack of investment in the EV industry keeping prices high.
In terms of the wider economy, it's recognised that kicking the can down the road rather than transitioning to a green economy sooner will cost more. The simple fact of the matter is that a transition HAS to be done, and going further and faster to net zero will bring a host of benefits, as well as mitigating some of the worst effects of climate change. The atmosphere doesn't understand deadlines and targets – climate change isn't on standby until 2050, to be unleashed if we fail to be net zero by then. Every gram of carbon dioxide or other greenhouse gas that is added to the atmosphere is aggravating global warming and the effects we are already seeing today will only get worse while we procrastinate, necessitating even more drastic emissions cuts later down the line.
The rhetoric around the scrapping of proposed taxes on meat and flying, and schemes to encourage car-sharing and recycling seemed only to be included to serve the purpose of whipping up anti-green sentiment. There was no balance offered – no acknowledgement that a modest reduction in meat consumption is what is generally recommended (with a 30% reduction in meat consumption by 2031 stated in the Government's own food strategy), or that choosing local, well cared-for meat over cuts imported from deforested rainforest, will help support British farmers rather than harm them as suggested in his speech.
And what of flying? No-one is suggesting that families can't enjoy their annual holiday abroad, but if some of the 15% of UK residents who take 70% of flights would change their habits it would massively help the environment. European rail travel is becoming increasingly popular with many new sleeper trains being introduced - just ask The Man in Seat 61!
Although it seems that the timing of these announcements was outside the control of No.10, it may have allowed the Rosebank approval to be shrouded in the relative dismay already existing amongst those who truly understand the climate crisis. For those who are still unsure of what climate change will mean for the next generations, the green light for even more fossil fuel extraction may have seemed reasonable considering the PM's insistence that the UK is a world leader in carbon reductions. In fact, we recently lost that questionable crown. There was also boasting of the UK's comparatively small global contribution to current emissions, which fails to acknowledge our world-leading historic emissions, our emissions per capita, and the fact that we have out-sourced our manufacturing emissions to Asian 'high emitters'.
So it seems we're reduced to playing political football on the national and international stage with a crisis so huge and complex that it could easily threaten our very existence. How's that for long-term benefits?
If you'd like to delve into this further, there is an excellent article on the Carbon Brief website, or if you prefer your information in audible format, check out our recommended podcast, More or Less.