Hosting a sustainable celebration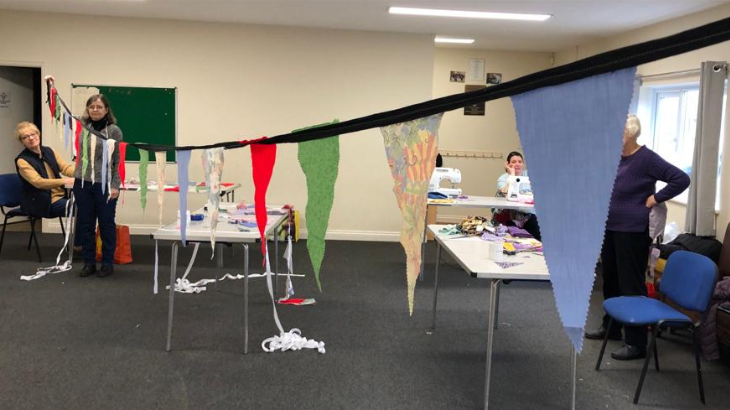 As the date for the King's Coronation was set, among the Bugbrooke Environmental Working Group excitement was mixed with concern about potential sustainability issues. So, we came up with some suggestions for organisers to help make Coronation celebrations as sustainable as possible, and worked with the village event committee to put these into action. Of course, looking beyond the Coronation, these suggestions will hopefully be implemented for other events.
Avoid single use items
Single use plastic cutlery, plates and bowls will be banned in the UK from October, but even wood/paper have issues with sustainability e.g. cannot be recycled if contaminated with food, plus the carbon footprint of manufacturing the items. Compostable disposable cups etc require specialist disposal and they cannot generally be composted in this country. Therefore, we suggested a few more sustainable options such as:
· Hire glasses/cups/plates for your event – there are party hire kits available (https://www.partykitnetwork.org/) and some supermarkets offer free glass hire.
· If serving sauces/garnishes at your event then have a big bottle rather than sachets.
· Attendees could take a picnic with reusable plates, bring reusable coffee cups and bags for life for any purchases.
As a result of the discussions about food containers for the Coronation, the local football club bar have switched from polystyrene to compostable card and paper for their takeaway food – still single use but an improvement.
Transport
This is a local event and the organisers are including on all their posters a request for everyone (who can) to walk to the venue.
Decorations
Balloons are best avoided – especially helium-filled. They are terrible for nature when they pop/are discarded. Studies have shown that balloons labelled as 'biodegradable' don't break down safely and still pose a risk to wildlife.
As an alternative we suggested reusable bunting and organised a bunting making workshop. Seven keen volunteers spent a morning turning a pile of donated fabric scraps and old clothes into 80 metres of multicoloured bunting, which can be stored for use at future events.
Food waste
Food rotting in landfill is a major emitter of greenhouse gases, not to mention the emissions arising from food production and transportation, that are also wasted when the food goes to waste. The best way to prevent this is to ensure food waste is minimised by careful planning. Any leftover food could be shared amongst guests or donated (best to identify where it could go beforehand), and any food that cannot be shared could be composted or at least placed in a food caddy. There's a useful article on the Party Kit Network blog: https://www.partykitnetwork.org/post/ways-to-avoid-food-waste-at-parties.
Disposing of food waste from the Coronation event presented challenges because it contained bread and meat which are not normally recommended for home composting, plus paper napkins which can't be put in kerbside food waste caddies. We asked GardenOrganic for advice and they suggested a hot composter, which can deal with all types of food waste, paper and card, and is rodent proof. Supported by Bugbrooke Parish Council, we have been able to fund a hot composter that will be a permanent asset to the village. After the Coronation it will be used by a village organisation to help deal with ongoing food waste and provide free compost for local gardeners.