Threads of Change: Navigating the Future of Fashion with Sustainable Clothing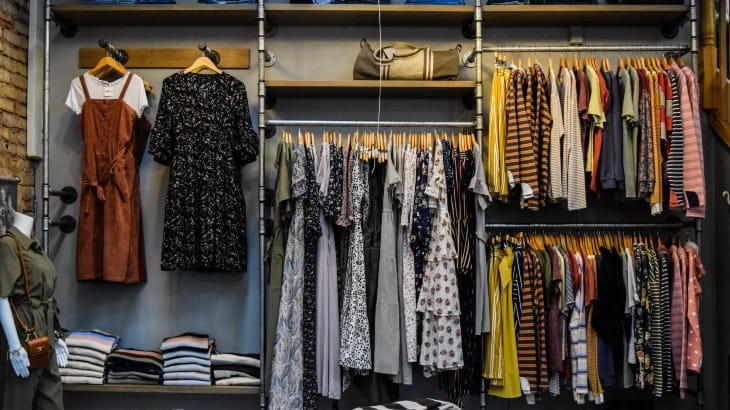 For years, well-known brands have dominated our high streets and online marketplaces, bringing affordable fashion to millions.
But with the world's continually growing population, the demand for new clothes is escalating each year. In fact, two tonnes of clothing are bought every minute across the UK, according to Oxfam, resulting in nearly fifty thousand tonnes of carbon emissions, but the damage doesn't stop there.
A burgeoning global population has seen the growth of fast fashion, a worrying trend that relies on cheap, disposable clothing that's contributing 10% to global CO2 emissions and clogging up landfill sites across the country.
In addition, data from Statista1 has revealed that global apparel emissions are projected to hit 968 million tonnes of carbon dioxide emissions in 2023, with the trend expected to escalate to over 1.26 billion tonnes by 2030.
This research comes as Dr Alana James, Assistant Professor in Fashion at Northumbria University, recently discussed2 the environmental concerns facing the fashion industry in September of this year.
In her report, she said: "The UK consistently buys more garments than any other European country, spending more than £45 billion annually. Fast fashion, an industry trend that involves getting cheap reproductions of catwalk designs out to a mass market as quickly as possible, encourages this buying frenzy."
James added: "Much of fast fashion is known to depend on sweatshop labour and polluting factories. But alongside the demand for ever-faster fashion at low prices, there is a growing awareness among consumers that something has to change.
"Some firms have caught on: many brands now report their environmental footprint and have disclosed their intention to shrink it."
As the catastrophic impacts of fast fashion are beginning to penetrate public concern, we've compiled some of the ways you can make new additions to your wardrobe carbon neutral.
Charity and second-hand shops
One of the first, and perhaps most observable, options for low-impact clothing are charity shops. According to the Charity Retail Association3 (CRA), there are over 11,200 charity shops found on high streets across the UK, making up 4% of the UK's total number of retail units.
The CRA also said that 295 UK-wide charity shops are "boutique-style stores", and are key demonstrators that pre-loved items can be stylish and offer a glamorous shopping experience.
The benefits of buying new clothing or other goods from charity shops are seen in a variety of different ways, including funding the charities' operations and contributing towards a positive cause, all while saving yourself some money and giving a second life to someone's unwanted items.
Charity shops are also great opportunities to find pieces of clothing that differ from those on the traditional high-street sales rack and can include high-end or vintage items on offer, sold at an affordable price.
Looking locally to Northamptonshire, charity shops like Dapp4 offer suitably affordable prices where funds through purchases turn textile waste into development aid for developing countries. The store sells good-quality items from well-loved brands including Nike, Adidas, and Hollister for a fraction of their retail price, so a new stylish fit can be achieved while helping a fantastic cause.
Locals can also opt for Vintage Guru5 in Northampton town centre, an independently owned emporium where customers can find stand-out pieces and vintage clothes at reasonable prices, alongside other homeware goods and gift items. Store owner Julie Teckman has emphasised the importance of businesses like her own, and how they can make a difference to your shopping experience:
"People often worry about buying and wearing second hand clothes, particularly vintage ones. They worry that the sizes will be wrong and that the clothes will be damaged or dirty, but good vintage clothes stores like ours will do their best to make sure all the clothes they sell are in good condition and cleaned before they go on sale.
"In terms of sizing, it is true that sizes don't always reflect modern sizes as people wore different undergarments in the 40s and 50s, and were often smaller in size and height. Staff in vintage shops are on hand to help advise and always recommend trying clothes on before buying, which is another reason why shops are better than online shopping when buying vintage."
Teckman added: "The huge joy of buying vintage clothes is the knowledge that, not only are you helping to break the cycle of fast fashion, strain on natural resources and waste, but also that your 'new' clothes have a history and provenance, who knows where they were worn and what they witnessed, and that's why we say 'vintage is the new new'."
"My view is that vintage should be wearable, and my mission is to make sure that people of all ages feel comfortable wearing vintage clothes."
Online marketplaces
Online marketplaces have also become popular sites to visit in order to scout out unused, pre-worn, unique, or vintage outfits and accessories, with popular sites like Depop, Vinted, Ebay and ASOS Marketplace taking the lead amongst others.
These sites allow users to conveniently purchase and sell their used clothing online, give it a second life with a new owner, and allow users to shop for particular brands, styles, and categories.
In a recent report from Depop, the business revealed that over 25 million items were saved from landfill, all while allowing thousands of its users to create an income through the circular fashion economy.
Similarly, Vinted has stated that its customers on average save 1.8kg of carbon dioxide through buying second-hand clothing and has also said that one fifth of its users would continue to opt for second-hand clothing over new after using the platform.
Like charity shops, there is a wide range of clothing found on online marketplaces that suit a variety of styles and tastes, as well as a plethora of popular brands like Converse, Dr Martens and Urban Outfitters, meaning that there is something for everyone.
New ethical and responsibly-made clothing
While shopping for pre-loved clothing is one of the most ethical and planet-friendly options, buying new clothes doesn't have to be a no-go. If you have seen a must-have outfit that's brand new in-store or online, it is important to run through some important questions before you buy to make sure that it won't end up in landfill anytime soon.
Ask yourself things like: What has the impact of the production of the garment had on the environment? What fabrics have been used to create the product and are they ethically sourced? Is the garment durable and will it last for a long time?
It's also advisable to keep an eye out for products made from fabrics like organic or recycled cotton, lyocell, recycled polyester, and bamboo linen as a way to ensure that the clothing has been designed and produced to have a minimal impact on the environment.
And to take it a step further, buying from brands that specialise in ethically-made new clothing, such as BEEN London, Mother of Pearl, and Fanfare – which use responsible materials and makes it easier for customers to make better choices – means that you are helping to benefit businesses whose mission is to bring new sustainable clothing options to the public and help show there's a demand in the market for this type of viable fashion.
1 https://www.statista.com/statistics/1305696/apparel-industry-co2e-emissions/
2 https://newsroom.northumbria.ac.uk/pressreleases/fashion-industrys-environmental-impact-is-largely-unknown-heres-why-3273445
3 https://www.charityretail.org.uk/charity-shop-numbers/#:~:text=People%20shop%20for%20good%20and,across%20the%20UK%5B1%5D.