Today's business environment is tough. Is effective collaboration the best way to navigate through it?
When it came to researching this article, I couldn't resist asking the Internet what the keys to business success are. This threw up a rabbit-warren of answers, some of them positive and forward-thinking, but many stuck in the conventional mindset of competitive advantage. Take this for a definition from Study.com; 'the capacity a corporation has to outdo its competitors in both quality and price. A successful business can beat its competitors in the market in terms of sales and revenue margins because of these advantages. Business may frequently outperform their rivals thanks to them.' And another adversarial comment from Investopedia; 'business success derives from factors that allow a company to produce goods or services better or more cheaply than its rivals'. Most gladiatorial of all came from LinkedIn (albeit dated 2018) advising would-be entrepreneurs that 'the more time you take to closely study your competitor's strengths and weakness, the more likely it is you'll be able to devise strategies to defeat them'. The italics are mine as I wanted to draw attention to the sharp-elbowed, winner takes all attitude.
There is no denying that today's business environment is tough; rising costs of energy, materials and goods, climate and biodiversity crisis, social inequality, difficulty in accessing funding, regulatory and disclosure requirements. Might the best way to navigate these issues and risks be through effective collaboration rather than competition?
An example of a business community leading the way in collaboration and collective action is the B Corp community. Certified B Corporations, or B Corps, are companies verified to meet high standards of social and environmental performance, transparency, and accountability. B Corps commit to positively impact all stakeholders – employees, local communities, customers, and the environment. Once certified they can join a local group, known as a 'B Local' where they work together to find solutions to shared challenges. In Northamptonshire, there are 12 certified B Corps representing 8 different industries ranging from construction, apparel, beverages, cleaning products, investment services, HR, PR and consultancy.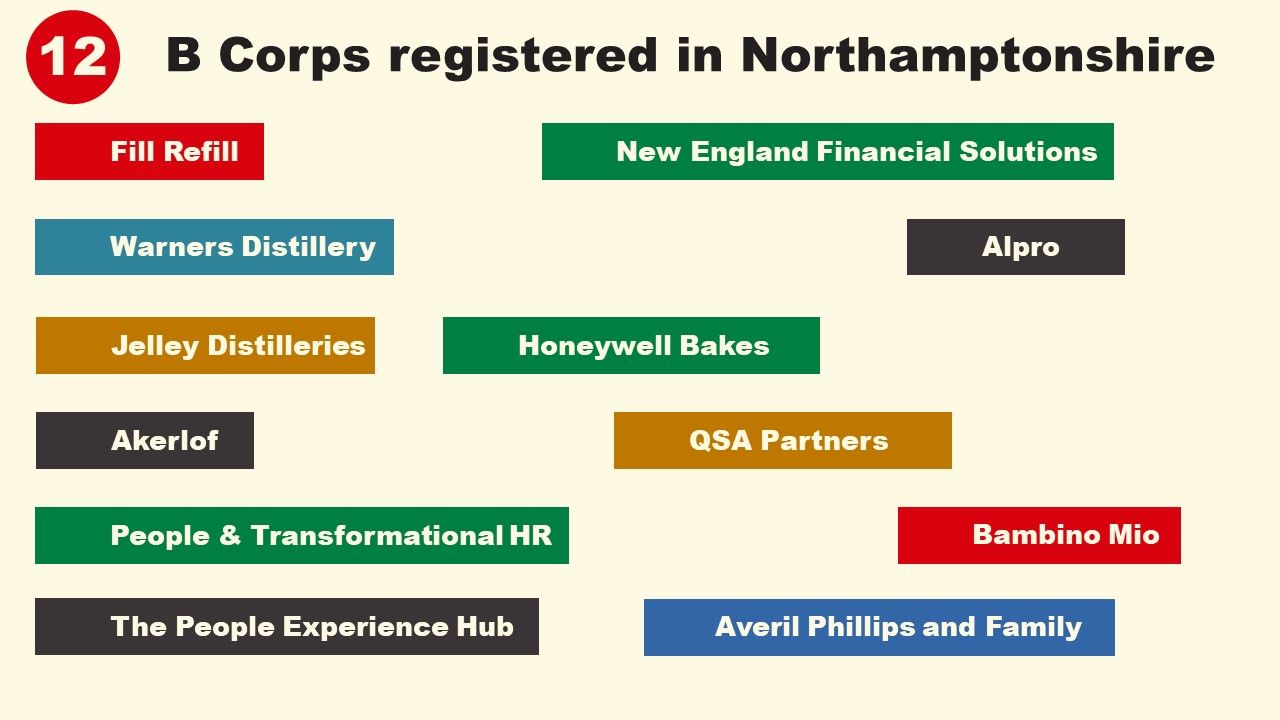 The Northamptonshire B Corps vary in size from micro to global. Reusable nappy revolutionaries Bambino Mio, headquartered in Brixworth, trade in over 50 countries worldwide. Guy Schanschieff, Founder, commented in a recent article in the Retail Times 'we hope our commitment to doing business differently will be an inspiration to others.' Guy is spearheading the formation of a B Local group in Northamptonshire along with Warner's the spirits producers from Harrington, whose vision is to become the most nature positive drinks business in the world. Tina Keogh, Co-Founder & Co-CEO intends to 'raise awareness of how businesses can go beyond (business as usual) to have a positive impact on nature'. The aim of all the businesses in the Northamptonshire B Local is to leverage the breadth of insights, experience, and innovations across their industries to share best practices and support and influence the wider Northamptonshire business community.
Another B Local in Oxfordshire has provided a number of informative and educational events to the wider business and academic community. Through tie-ups with other local business groups, such as OSEP (Oxfordshire Social Enterprise Partnership), OxLEP (the Local Economic Partnership) as well as business schools SAID and Oxford Brookes, they have helped foster collaborative promotion of purposeful businesses and to bring stakeholder-led capitalism and B Corp as a concept onto the syllabus for these business schools.

The B Corp movement is a global movement and there are many examples of collective action initiatives. One is the B Corp Beauty Coalition where over 60 B Corps across 8 countries and 3 continents have come together to improve the sustainability standards of the beauty sector. Historically this has been a cut-throat and environmentally damaging industry but through the coalition's influence (and they have some big names around the table, such as Elemis, Weleda, Rituals) they intend to trigger broader changes and ultimately improve the social and environmental footprint of the sector as a whole.
Closer to home, prepared fruit producer Blue Skies, headquartered in Pitsford, launched the Fresh Produce Impact Hub (FRESHPPACT) in 2022 in order to bring together retailers, manufacturers and agribusinesses operating within food supply chains and address the issue of plastic waste. The food industry is the single biggest user of plastics, but agriculture is also a big user with plastic mulch used routinely for moisture retention and weed suppression. FRESHPPACT is funded by a UKAID grant through the Sustainable Manufacturing and Environmental Pollution Programme (SMEP) and is an example of the importance of effective collaboration. No one company could solve such a huge issue as this. The consortium of members includes the University of Nottingham, the University of Northampton's Centre for Sustainable Business Practices (CBSP), Waitrose & Partners and Primafruit to name a few, and is working to find solutions to mitigate pollution caused by plastics. FRESHPPACT is also exploring innovative ideas to replace single-use plastic trays for fresh fruit, methods of removing agricultural mulch safely or using biodegradable mulch, and compostable clothing for its workers. Thanks to the breadth of the consortium, FRESHPPACT has the resources to develop and test the new ideas to ensure they are economically viable before scaling up and introducing them to the rest of the industry where their impact can be greatly increased. Simon Derrick, global head of sustainability at Blue Skies, writes in a recent article for the Fresh Produce Journal, 'to attain the necessary scale of impact, we need seismic change, and this can only be achieved through effective collaboration.'
The KTP project (Knowledge Transfer Partnership) run by the Northamptonshire Chamber of Commerce and the University of Northampton and part funded by Innovate UK is a further illustration of successful local business collaboration in action. The KTP aims to support Northamptonshire businesses by developing innovations and transforming their business though working with expert academics to transfer and embed new skills and capabilities. Tingdene, one of the UK's leading manufacturers of residential park homes and holiday lodges, based in Wellingborough, signed up for a KTP to address spiralling waste costs and to get support in changing employee behaviour and improving the recycling of their waste. It was so successful, that in the words of Jamie Wilkins, Tingdene's Chief Technology Officer, 'we are looking to enter another KTP to focus on the product rather than the employees this time; to expand our work practices and manufacturing techniques.'
The Chambers of Commerce of which there are 53 in the UK, all accredited by the British Chambers of Commerce, represent 70,000 businesses and are committed to supporting the businesses in their respective areas. The Northamptonshire Chamber of Commerce represents around 1,000 businesses – who employ over one third of the county's workforce.
Members benefit from essential services, events, networking, training opportunities, help with funding and marketing along with business support. The British Chambers of Commerce together with the CBI (Confederation of British Industry), and the FSB (National Federation of Self Employed & Small Businesses) although apolitical have lobbying power and voices that are listened to in the corridors of Westminster, ensuring that the UK's businesses of all sizes and sectors can prosper for the benefit of all.
Effecting actual policy change as a result of collective efforts is often the optimum aim of a coalition. Over 2000 businesses in the UK have joined the 'Wake Up to Better Business campaign' and are pushing for the passage of the 'Better Business Act'. This would amend UK law so that every company in the UK takes ownership of its social and environmental impact and aligns the interests of shareholders alongside those of wider society and the environment. Through a small amendment to Section 172 of the Companies Act businesses would be legally responsible for benefiting their employees, customers, communities and the environment at the same time as delivering profit. The Better Business Act is backed by the Institute of Directors and is taking part in a Parliamentary Reception on 26th April 2023.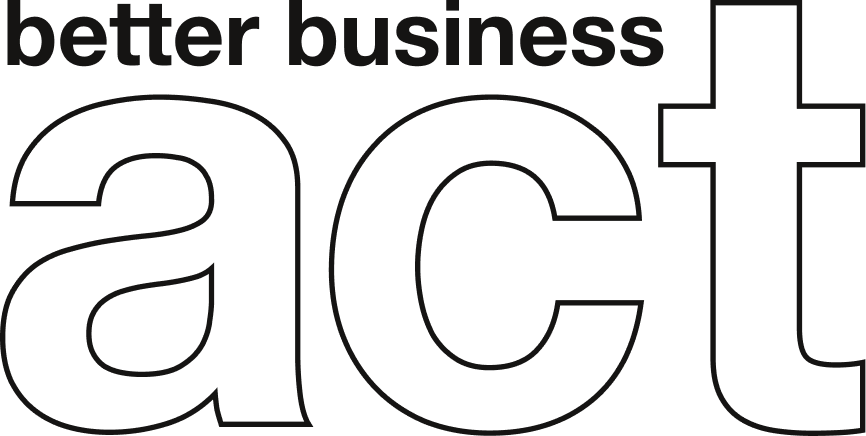 To conclude; the business world is a multifarious yet mutually dependent ecosystem. Now more than ever we need we need to learn from one another. Collaborative advantage is the new competitive advantage. Collaboration is essential for success and we are without doubt stronger together.
For those wishing to dig further into this topic, Paul Skinner's book "Collaborative Advantage" is packed full of practical guidance to help businesses perform better through collaboration.