My View: Emma Roberts
CA-WN gives a Councillor the space to speak about climate action
As I sat down to write a few words for the article this month what struck me was just how much I had to say, there is simply such a lot I could write about.
Lots of people contact me about Active Travel and more friendly streets. They want to see change and the ambition to achieve it. They want more investment in infrastructure that doesn't involve building a new road. They want roads and pavements that allow pedestrians, cyclists, cars, and other motorised vehicles such as Scooters to be able to share space. They want to see less traffic around their school and more space to walk safely. They want recognition that we can share these spaces for safety but equally for the impact on air quality.
Last year for Brake Road Safety Week I ran a competition in my ward with local school children being asked to design a road safety poster with a view to these posters being available to be put up around schools. The winning design from a young girl at Delapre Primary caught our eye because it was titled "The Road is a shared space" Our future generation know exactly what they want to see. Everyone judging felt the image really drew you in and offered such hope for what we could achieve.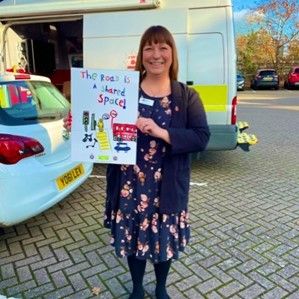 I got to thinking about what gets in the way, why there is a such a reluctance to take ambitious action here in the new West Northamptonshire footprint. When a motion was proposed to Council to look at calling for a feasibility review into the advantages and disadvantages of introducing a 20mph speed limit it was voted down. The motion would have allowed a report on the probable impacts on fatal accidents, pedestrian safety, traffic congestion and air pollution. It was voted down, but many seemed to agree the concept was completely valid.
The concept is heavily supported by Road Safety Professionals, BRAKE the road safety charity, the World Health Organisation, and the General Assembly of the United Nations, Living Streets campaigners to list a few. The General Assembly of the United Nations endorsed the 20mph concept as part of a key deliverable of its sustainable development goals. So why do we say no? Just because a Labour Councillor asks for it perhaps. ROSPA tell us that studies show that as well as Road Safety benefits, air quality, noise pollution and encouragement of more physical activity are all benefits born out of these measures.
Why won't we consider running school/play streets as a norm across the area? Why don't we want to trial anything that might cause a bit of disruption? If we don't take any risk, we won't achieve change. I would like to see a real shift in ambition. I would like to see us working to take the public with us and show the benefits, rather than focus on potentially negative perceptions relating to change. Where there is reluctance, we have a duty to inform and engage, not shy away. We need to be ready to emphasise the benefits and be prepared to handle controversy.
When WNC embraces this I think we will take 10 giant leaps for climate action, 10 giant leaps for public space improvement and who knows maybe 10 new reasons to do some more!