GBGW 2023: It starts at home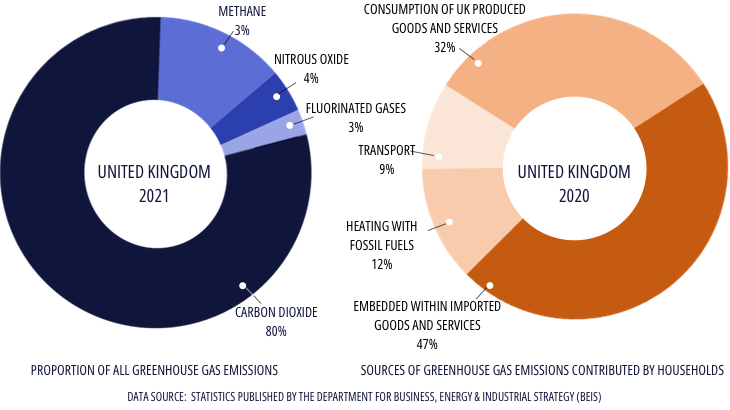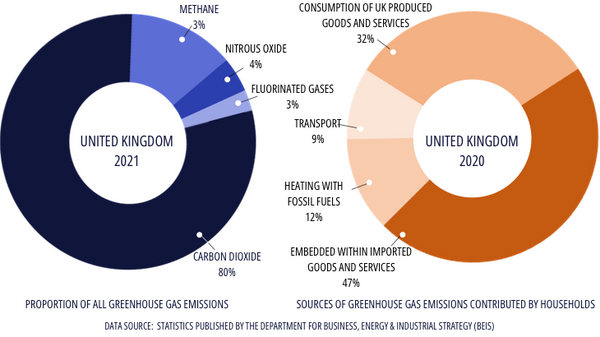 The government figures shown here chart our collective contribution to global climate-changing greenhouse gas emissions.
Because everything we do has a climate consequence let's keep in mind that when it comes to reducing emissions, as they say, every little helps - one way or another.
With nearly half a million people living in West Northamptonshire every little amounts to an awful lot. When three-quarters of all our greenhouse gas emissions come from consuming goods and services, half a million people consuming a little less would indeed add up to an awful lot less greenhouse gas.
A personal decision to consume less, while ostensibly bad for business, does save money. A little less travel, or walking or cycling instead, could add further savings, savings that higher winter heating bills are eating up. So, how can we reduce our heating bills?

It is said that installing a heat pump and improving insulation levels will reduce home heating costs. This would be good business for installers, but we need to ask how householders might benefit. Certainly, some homes do need extra insulation. And an efficient heat pump carefully matched to the home's energy needs might save energy. But at what cost are these improvements made?
Householders' decisions about investing in energy efficiency are sometimes based on the recommendations given in a home's Energy Performance Certificate (EPC). These certificates, produced using a standardised procedure for assessing and grading a home's energy efficiency, were never intended to guide major investments, like installing a heat pump or improving whole-house insulation levels. Bear in mind that the EPC assessment process was formulated long before we had smartphones. In those days of paper-based surveys, the priority was the development of a straightforward, easy to deploy, nationally applicable energy efficiency ranking scheme. Fast forward to today. What would work better than a home's EPC to inform decisions about increasing home energy efficiency?
To answer that question ten families opened their homes to CA-WN last winter to trial a new approach to assessing their options for improving energy efficiency. This new approach makes use of very detailed information gathered over several weeks using technology that even if it existed ten years ago would have been prohibitively expensive for everyday use.
The process starts with the household's energy meter readings, proceeds to log immediate outdoor temperature and humidity levels, collects room-by-room measurements of indoor temperature and humidity levels, and concludes with an end-of-survey meter reading. Taken together these provide unique insight into the thermal performance of each home. The computer-based analysis of the results, when coupled with a clear understanding of occupiers' comfort preferences, becomes the uniquely tailored foundation for building up options for improving the home's energy efficiency.
Although they use affordable data acquisition devices, these in-depth assessments at £500 each, can only be for the few. Not least because currently, mid-2023, there are too few assessors with sufficient experience of delivering this holistic analysis service. It will take two further heating seasons before there's a large enough team capable of triaging the 100,000 or so privately owned West Northamptonshire homes that deserve to be less energy wasteful.
The current absence of trained energy assessors is just one obstruction to wide-scale action to improve home energy efficiency. There are other practical roadblocks: scarcity of materials, of equipment and of a labour force sufficiently skilled to do installations. The social housing providers in our region, Grand Union and West Northamptonshire Partnership Homes, are receiving public funding that will help to develop a retrofit market capable of matching supply of resources to emerging demand, but that too will take a couple of years at the very least. Government energy-related go-stop-go-stop financial support policies have created a natural reluctance of middle-tier contractors to dive into retrofit. The region really does need those family-owned, reputation-aware, conscientious businesses that lie between the profit-maximising, publicly listed national building contractors and the single-skilled sole trading builder, electrician or plumber.
Meanwhile, those homeowners who do seek to reduce their greenhouse gas emissions, and aspire to save money heating their homes, are having to deal with well-meaning but sometimes inept contractors trading in imported equipment originally intended for use in climates quite different from the English South Midlands and generally untrained in accurately assessing what's best for their clients.
There's one further obstacle in the push to replace fossil-fuelled home heating. Ofgem estimates that a typical household uses 2,900 kWh of electricity and 12,000 kWh of gas every year. Even when a heat pump is four times as efficient as gas heating, switching to electric-only heating effectively doubles each household's annual electricity use. That's a doubling of demand on a grid that today struggles to satisfy peak wintertime demand and is structurally unable to take input from major new sources of renewable energy.
Where does that leave us today? If West Northamptonshire communities choose to came together, as streets and neighbourhoods elsewhere are doing, they could make a start by identifying homes ripe for improvement. They would then be in a position to benefit from economies of scale by, as it were, bulk-buying from a new breed of well-informed retrofit contractors able to supply, fit and maintain UK-specific systems and controls.
Which does leave a final and fundamental question, who will be paying for all this? One answer came from a speaker at a retrofit conference last summer, a leader of a local Integrated Healthcare Board (ICB), who explained that there could be a case for ICBs to raise a budget for spending on home improvement if it cut the costs of caring for patients whose poor health was linked to poor housing conditions.
There must be other equivalent opportunity costs, such as the National Grid complementing its essential infrastructure investment by allocating funds for delivering well thought through home energy efficiency measures that would reduce total demand on its electricity network.
Enlightened lenders offering mortgages for buying energy inefficient homes might add to their loan amount the full costs of bringing them up to the standard needed to maintain comfort during extended sub-zero winters or 40°C summers.
Of course all this requires joined-up thinking by all the relevant parties. Without taking thoroughly considered decisions, followed up by urgent action, there'll be no progress to report in 2025. Everything is hotting up and there's no time to lose.
Whatever the future holds CA-WN will continue to be a source of reliable fact-checked information and ever ready to support local communities in their drive to be more resilient to the worst effects of climate change.
If you have a question just ask, or if you would like to share your views then please do hit the subscribe button.