Green Lentil Casserole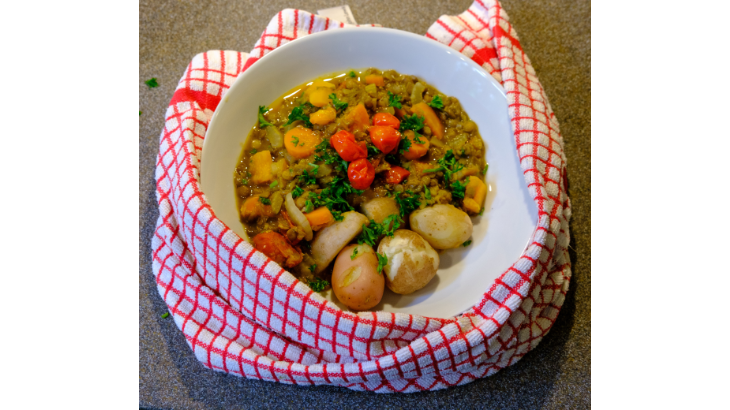 The change from summer to late autumn has been sudden this year. The prolonged spell of warm sunny weather at the start of October encouraged the last tomatoes to ripen and lulled some of us into a false sense of security! This didn't last, and with winter setting in it's time to warm ourselves with woolly pullovers and casseroles. This one uses green lentils, rich in iron, and ultra-satisfying. They take slightly longer to cook than red lentils, and soak up the flavours of spices and herbs. If you like a spicy dish, use fresh chillis, carefully de-seeded, or if you are not a fan of "hot" food, use a scant pinch of chipotle flakes during the initial cooking stage.
This dish can be served as a thick soup, or with the addition of extra root veg, a substantial casserole.
These are approximate quantities and ingredients for a hearty lunch or supper for 4 people.
A cup or small mug of dried green lentils
1 large or two small cloves of garlic
One or two onions, depending on size
A stick of celery
Three medium carrots
Half a butternut or similar squash
Half a small head of Savoy cabbage, finely shredded
One finely sliced small chilli (deseeded before slicing)
One stock cube + as much water as the dish requires – the lentils will absorb a lot of fluid
Dried mixed herbs
A pinch or two of chipotle flakes
Half a teaspoon of ground allspice
Half a teaspoon of ground fenugreek
Half a star anise
3 or 4 medium sized potatoes, cut into quarters. Steam these separately and add at the end of cooking.
A medium bunch of fresh parsley. Cut the stalks off and retain them to add along with the vegetables. Chop the parsley leaves to garnish at the end of cooking.
If you have one, use a largish casserole dish suitable for use on the hob which can also go in the oven. If you haven't one of these use a big saucepan with a lid.
Start by thoroughly washing the lentils in a sieve, and set them aside.
Scrub the carrots, potatoes, etc and peel squash.
Roughly chop the onion and celery.
Put a splash of oil in the pan and sauté the onions till transparent. Add the celery, garlic, parsley stalks and shredded cabbage, then the sliced chilli and spices, except the star anise. Next add the lentils to the pot, and enough water to cover them. (Don't add the stock cube yet.)
When the pot comes to the boil there's a danger the lentils will catch, so stir the pot from time to time.
Add the diced carrots and cook for a few minutes then add the butternut squash. Top up with water as required, and once the lentils start to soften, add the crumbled stock cube. Adjust seasoning.
Add the star anise and mixed herbs, stir thoroughly, cover with a lid and put in a medium oven for 45 minutes, or continue cooking at a low heat on the hob, stirring from time to time. If cooking on the hob, it is likely you will need to top up the water level a little as it continues to cook.
A few minutes before you intend to serve stir in the steamed potatoes, leave them to soak up the flavours, then sprinkle a little chopped parsley over the casserole.
Serve at the table, with optional crumbled feta cheese.