GBGW: Clean Air Day 2023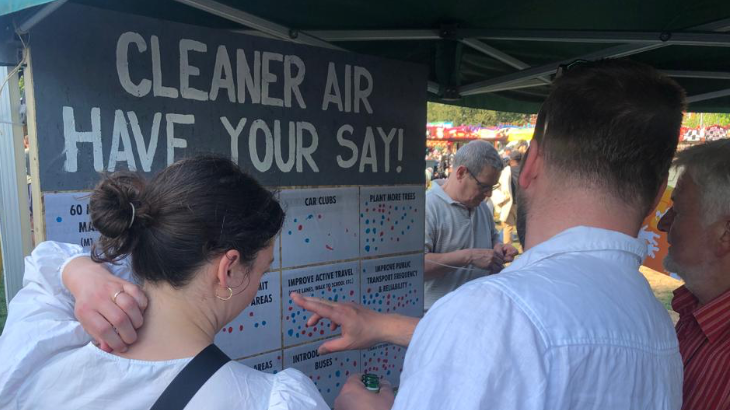 By Dave Pearson - Clean Air Northampton
Yes. The 15th June 2023 was Clean Air Day. But shouldn't everyday be a Clean Air Day?
The Council, with statutory duties to ensure the good health of residents, must answer why Northampton is the town with the most polluted air in Britain.
CA-WN already knows why because I've been helping to monitor Northampton's air. The pollution sensors show that it's largely the collective result of everyone needing to use their cars and keep themselves comfortable at home.
What do the people of Northampton want done about the town's polluted air? At the Town Carnival on 10 June Clean Air Northampton listed key actions that could help reduce air pollution in the town and asked people to rank the most important in their view.
Top of the poll was active travel, walking and cycling. Planting more trees, improving public transport, and introducing a clean air zone also scored highly.
Electric buses came in fifth. Then came smoke control areas that ban wood-burning stoves and bonfires.
Next came car-sharing schemes, refusing to licence diesel and petrol taxis and a 20 mph speed limits in residential areas. Car clubs, where you just book and use a car when you need one, was the least popular measure.
John Crick of Living Streets Northampton said "It's been well known for years that Northampton has toxic air, well over the safe limits set out by the World Health Organization. Air pollution is caused mainly by cars, and 40% of car journeys in Northampton are less than 2 miles – a distance that could easily be walked or cycled by most people. Yet while neighbouring cities such as Leicester, Nottingham, Coventry, and Birmingham are investing to make cycling and walking safer and easier, nothing meaningful is being done in Northampton. Putting the needs of car drivers above all else creates junctions that are unsafe for walking. Most people find our roads way too intimidating for cycling so counting the number of cyclists on today's roads is a waste of public funding intended to support active travel.
"Other places have realised that we can't just go on adding more and more cars as populations grow. They've invested in active travel infrastructure and it's working – Northampton needs to do the same and join the 21st century."
West Northamptonshire Council, our new unitary authority, has sole responsibility for managing traffic and travel, roads and planning, public health as well as for ensuring economic wellbeing. As the sixth-largest unitary by population, and ranked thirteenth by net current expenditure, it has become a nationally significant public authority. If it hasn't already recognised its responsibility for encouraging active travel, then it should put it high on its business agenda. There's no need to start from scratch. The ten-year old County and Town Transportation Plans all include sections on active travel.
Public Health England say that that every 12 months around 100 Northampton deaths are linked to air pollution. If residents value their health, they need to get behind Clean Air Northampton and support our Council in making change happen.
Clean Air Day 2024 must show that great progress is being made on cleaning up our air.