Don't be so car-less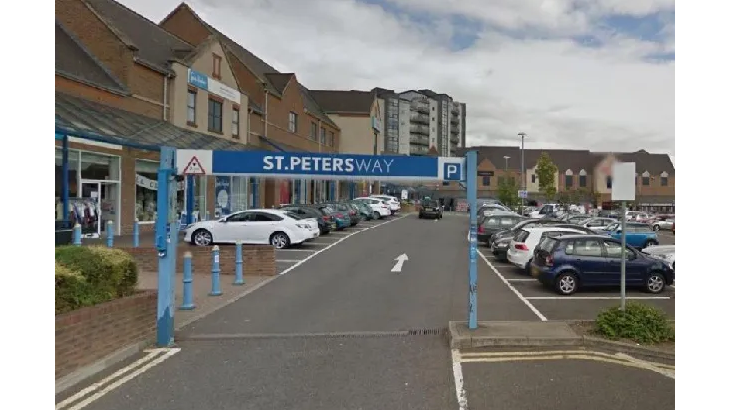 By Peter Doveston - Northants Streets Campaign
CA-WN's Transport Correspondent provides an analysis of vehicle ownership and deprivation data to make the case that reducing car use isn't just about emissions and climate change
Why should we bother doing anything? A question you may have encountered if you have spoken to your rambunctious yet articulate friend who is sceptical about the climate emergency. It's a provocative question and one backed by a seemingly persuasive argument. A figure often cited is the fact that the UK contributes less than 2% of worldwide CO2 emissions.

Why indeed should we act when our paltry slingshots will prove meaningless against the Goliaths of China, the USA and India? Is the climate emergency really going to be solved in the provincial town of Northampton? Questions such as these are often raised in response to calls for us to cut back on certain activities; car use is a particularly sensitive area.

They are all good questions though and we must not shirk them, frustrating though they may be. Rather we must respond with a convincing and unpatronising retort. I intend now to give two examples of why it would be good for us to cut back on our car use, and show the benefits of such action beyond that of global scale emissions reduction - two formidable stones to be cast in your sling.
We should cut car use because it will benefit the poorest and most vulnerable in our society and because it will make our towns and cities healthier places to live.

Firstly, let's look at the car ownership data from the 2021 census for two neighbouring areas of Northampton town, Abington Vale and Eastfield. The data can all be found on the Office for National Statistics website.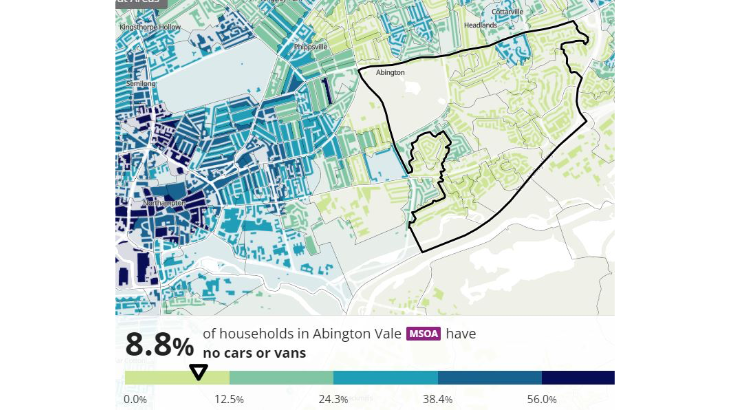 ---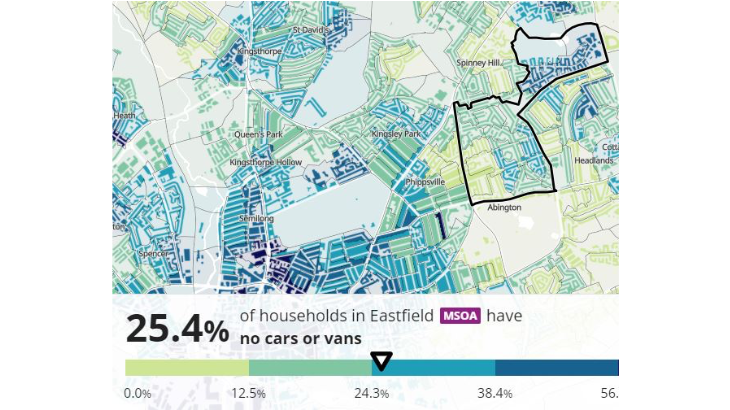 Now let's look at the data for Household deprivation in the same areas. Criteria for Household Deprivation can again be found on the ONS website.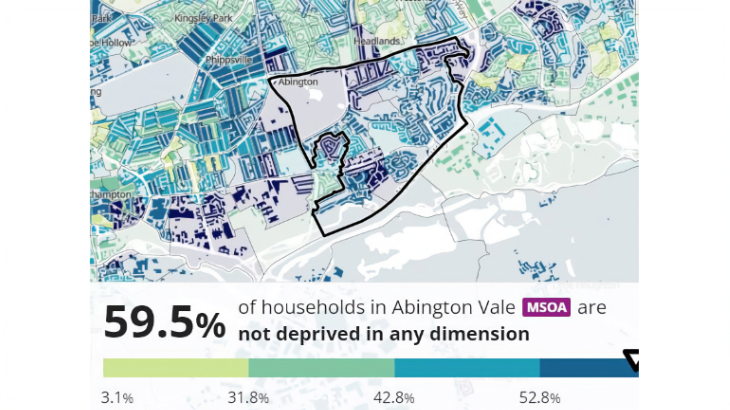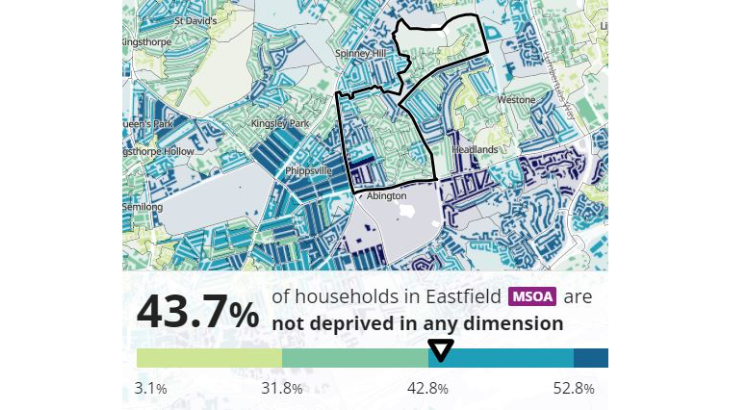 This, of course, is not enough evidence to say that there is a definitive relationship between car ownership and deprivation. However, it is enough to say that the more deprived area in this instance is also the area with more car-less households. Before our rambunctious friend cries 'anomaly!', let it be known that this example does not stand in isolation:
Kingsthorpe St David – 40% of households are not deprived in any dimension but walk across the Cock Hotel Junction to Kingsthorpe Village and it is 50%. Concurrently, 28.7% of households in St David are car-less, it is 19.3% in the village.
Blackthorn - 33.9% are not deprived in any dimension, walk across the Wellingborough Road to Little Billing and it is 50.6%. Concurrently, 26.3% of households in Blackthorn are car-less whilst it is 12.2% in Little Billing.
Some other stats worth mulling over: 46.2% of households in the town centre and Semilong area do not own a car. UK wide, 22% of households do not own a car.

Our rambunctious friend may eye us curiously as though while they are aware that not everybody drives, it may come as a surprise that it is a more significant percentage than they had previously considered. Do not be tempted to rest now, there is more for them to hear.
The current cost of living is still high with inflation sitting at around 10%. Reducing car costs is a way that people are looking to save. The ONS published a cost of living dataset based on data collected in October 2022, in which 89% of people said their cost of living had increased, 44% of these said they were cutting back on non-essential trips in their car.  Car ownership does not necessitate everyday use and thus even those who can afford a vehicle are feeling the pinch.

We often hear that councils and governments should assist by cutting fuel tax or offering other subsidies such as free parking. We also regularly hear about road building and improvement projects designed to improve the lives of residents. If the statistics we have shown our rambunctious friend are anything to go by, such cuts, subsidies and projects would never reach some of the poorest and most vulnerable in our society. What would reach them? Adequate, regular, affordable public transport working along established popular routes. Public transport which also happens to be a central consideration in any green strategy. Also, safe cycleways, so the bike becomes a viable alternative to the car. If our friend is not sold on the environmental argument, perhaps this argument will demonstrate the socioeconomic benefit of public transport and active travel investment.

Our friend may be impressed by this and agree that such investment is important. However, they say that they are perfectly able to afford their car and your argument does not necessitate a reduction in their personal car use in the way that the climate emergency argument does. Do not be downhearted, there is another very good reason for limiting personal car use and moving over to the alternatives.

A study conducted in 2022 has put together a world map of air pollution. The way they have characterised the data is to show the equivalent amount of cigarettes you would have smoked had you lived one year in each city. Look who tops it in the UK: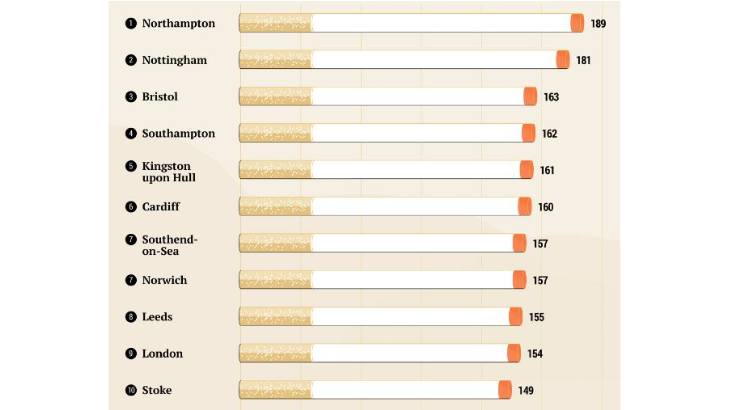 There is little benefit in promoting alarmism when it comes to such studies, which only offer a snapshot of reality. It is undeniable, however, that Northampton sits on top of this particular pollutant ranking and there is an ever-growing body of evidence that shows a relationship between air pollutants from vehicles and serious health concerns e.g. cardiovascular disease.

Promotion of public transport and active travel is not just a green concern, it promotes an equitable society. Reducing our personal car use is not environmental extremism, it is a matter of public health.
Our stones clatter into Goliath and he stumbles to the ground, forced to reflect. As the dust settles, however, a faint echo drifts through the air... 'The electric car?'

This, perhaps, is a discussion for another time.

P.S. It is not beyond the ability of Governments to act boldly against the proliferation of car use. Take a look at what the Welsh Government is doing as part of their National Transport Plan.