Council Watch - June 2023
CA-WN watching West Northants Council for us all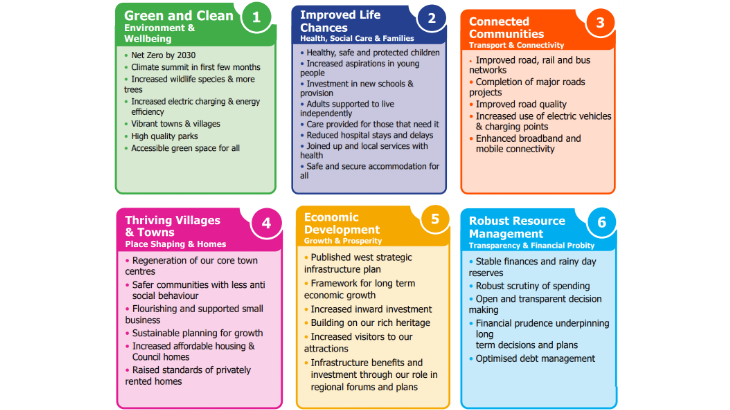 In June West Northamptonshire Council (WNC) published its Annual Report. You can read the report here (start on P109).
We've looked at the 2023 and 2022 Annual Reports to pick out the elements we think are most relevant to climate change and sustainability.  You can see below what WNC wanted to do in 2022/23 to address the climate and ecological emergency (priorities), what they actually did (highlights), and what they are aiming to deliver in 2023/24.
There is still no single place where we can see all actions to address the causes and prepare for the impacts of climate change (i.e. a Climate or Sustainability Action Plan). This would make it so much easier to appreciate what is being done and see where any gaps might be. If WNC has this but isn't sharing it – why not? If they don't have it, then they are running the risk of not giving themselves a coherent overview of climate actions, therefore overlooking weaknesses or opportunities.
As a reminder the image above shows WNC's overarching priorities, set when they took office in May 2021.
CA-WN's comments:
· Firstly, this is a much better picture than 12 months ago: it's encouraging to see several projects planned or being considered which should reduce carbon emissions, including a heat network (more on these here). It would be helpful to know what the expected impact is, and we'd hope to see this in future emissions reports.
· The 2022/23 report included performance measures – good, how else do we know if things are getting better? The image below shows what was measured for 'Green and Clean'. We'd like to see more added, e.g. to allow tracking against WNC's overarching Green and Clean priorities, it might be useful to add:
     - Number of wildlife species
     - % of population with access to green space
· No mention of delivering an active travel strategy, although this has been promised for quite some time.
· The Tree Policy is somewhat overdue so looking forward to seeing that early in 2023/24.
What do you think of WNC's priorities and highlights? Please use the comments to share your views.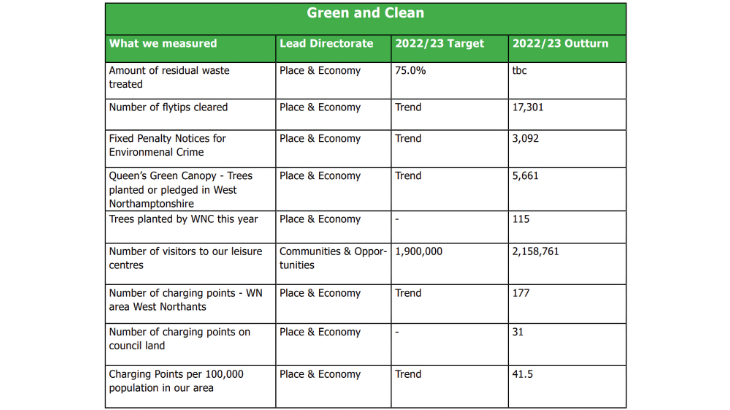 ---
Priorities for 2022/23 (from 2021/22 Annual Report):
· Together with our councillor working group, taking forward our Sustainability West Northants Initiative to raise awareness across our communities and make progress against the delivery of our pledges.
· Sustainable West Northants – having adopted a new approach to looking at sustainability, we will deliver a clear action plan of how the council will work in partnership with communities, businesses and stakeholders. We will ensure we all play our part in delivering our ambitious strategy that includes environmental, economic, and social sustainability and value
· A range of transport strategies that will ensure we have a credible, single understanding of the potential of all opportunities including active travel, the future of public services including bus, rail and new innovations including electric scooters, walking and cycling, and future road investment.
---
2022/23 Highlights:
· Establishing a new dedicated sustainability service was key to steering and developing our response to climate change and as a result more communities, partners and businesses have been engaged over the past year.
· We published a robust set of baseline CO2 emissions data for our Council's first year, giving us a baseline against which to progress a detailed action plan to monitor and reduce these
· Government funding of £1.25m was secured to make over 100 council-owned homes more energy efficient and a further £7m towards decarbonising our leisure centres.
· Working with partners, we have pledged to plant over 11,300 new trees across West Northants as part of the Queen's Green Canopy initiative.
· We expanded the success of the Northampton e-scooters scheme with the rollout of new e-bikes for hire across the town centre.
· We received nearly £300,000 government funding to roll-out new initiatives aimed at researching and improving air quality in Northampton.
· Putting the foundations in place for major transformational projects: Large scale solar generation (PV).
· Work underway on Climate Strategies for Estate, Construction & Maintenance, and Fleet.
· Secured funding:
      o £7m for decarbonising heating at four leisure centres.
      o £172k for feasibility for a sustainable heat network for Northampton and                   Rothersthorpe.
      o Delivering electric vehicle (EV) charging infrastructure.
      o Delapre Park active travel scheme
· Secured approval for the business case for the Resilience and Innovation in Northamptonshire (RAIN) project, unlocking £7m of Environment Agency funding to help manage flood risk in Wootton Brook (WNC) and Harper's Brook (NNC) catchments, with wider benefits.
· Secured lead authority status for preparing the Local Nature Recovery Strategy for West Northamptonshire.
· Secured funding from Public Health to fund a food waste campaign
· Secured £825k funding for Active Travel for capability and schemes
---
Priorities for 2023/24
· Develop WNC's Tree Policy and Strategy, and commence implementation.
· Proceeding with the next stages of the RAIN project.
· Development of first draft of the Local Nature Recovery Strategy for West Northamptonshire.
· Selected sites and moved towards implementation of large-scale solar generation (PV).
· Publication of Climate Strategies for Estate, and Construction & Maintenance, and substantial progress on Fleet.
· Completion of decarbonising heating at four leisure centres.
· Completion of feasibility for a sustainable heat network for Northampton and Rothersthorpe and if appropriate seeking funding for the next stage of work.
· Procuring a commercial partner for delivering EV charging infrastructure and securing the capital grant for this work.
· Implementing the Delapre Park active travel scheme.
· Progressing the DEFRA Air Quality Grant funded projects. These focus on the monitoring of traffic pollution in the Northampton area, integration with traffic management systems and provision of public information on air pollution levels and on the development of a full evidence base to assess the economic, social, and environmental costs and benefits of implementing further smoke control measures across West Northants
· Progress the declaration of a revised Air Quality Management Area for the Northampton area and work with partners to develop an action plan to improve air quality in the area.
· Complete work on Bus Service Review and implement outputs.
· Complete review of Community Transport and implement outputs.
· Develop and clarify changes in legislation such as the requirement in the Environment Act for Planning to introduce conditions within planning approvals to implement Biodiversity net gain (BNG) This is a way to contribute to the recovery of nature while developing land and will apply from November 2023.