Council Watch – 2023 Council Climate Action Scorecards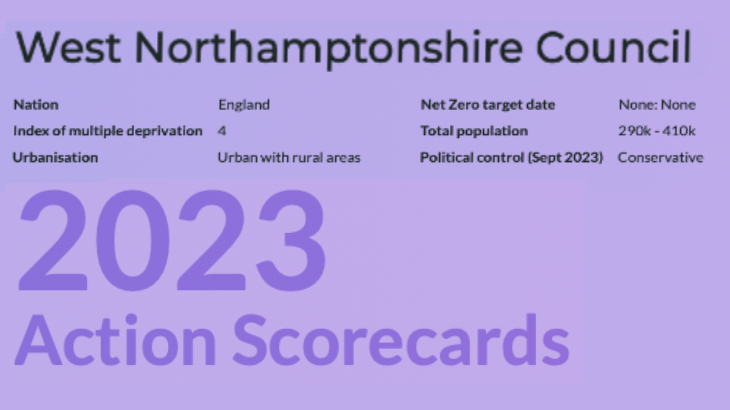 The title is a bit of a mouthful, but the idea is simple and very effective – objectively scoring climate action taken by local councils in the UK. It's a huge piece of work undertaken using a well-thought out methodology, which is explained on the website of Climate Emergency UK, the organisation that produces the scorecards. Councils are able to review their results and provide additional evidence prior to the final scorecards being published.
Council actions are scored in 7 areas. You can see below how our local councils did – both WNC and NNC come into the category of Single Tier Councils, as does our near neighbour Milton Keynes, included below as a comparator. The lowest score of the three councils is highlighted in red for each section, and the highest score in green.
The highest scores for all single tier councils show that it is possible to do a great deal better – both WNC and NNC were below average for almost every category. WNC's poor score for Collaboration & Engagement was heavily affected by the council's lack of a published climate action plan (something CA-WN has been pushing for since the council came into existence). We acknowledge that WNC's reorganisation into a unitary authority in 2021 slowed progress but we all need to see rapid improvement from now on.

You can dig into the detail of WNC's score here: