CA-WN Monthly Meeting Notes 21 September 2023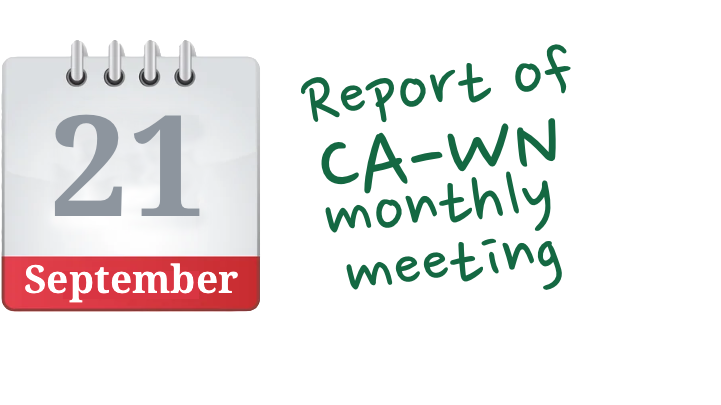 Our guest speaker this month was Simon Derrick, Global Head of Sustainability for Blue Skies and founder of the Sustainable Business Alliance. Simon gave a presentation on the subject of 'Trade, development and climate justice: the case of Blue Skies in Africa'.
Present: Dave Anderson, Ella Sage, Eugenia Wilson, Harlene Griffiths, Harry Mellor, Jane Wood, Karen Wilson, Leonie Beale, Maria Lee, Rupert Frost, Rupert Knowles
Apologies: Alexina Cassidy, Clare Robertson-Marriott, Clare Slater, David Garlick, Julie Fagan, Louisa Fowler, Mick Lorkins, Patsy Hollingum, Peter Nalder, Richard Hollingum
This meeting was recorded and is available to watch on CA-WN's YouTube channel https://youtu.be/LaXqo-5HZh4
Simon's slide presentation can be downloaded here.
This is a brief summary of Simon's talk, followed by Q&A:
· Simon (aka Denzil) has been at Blue Skies for 18 years in various roles, and is currently Head of Sustainability. Blue Skies produces fresh cut fruit, ice cream and juice. UK consumers won't see the company name on products in the shops; these are usually sold under the retailer's own label eg Waitrose.
· The company was founded in the 1990s by Anthony Pile, with the unique idea of putting the factory where the fruit is, rather than the usual model of importing the fruit and adding value in the UK. This approach has many benefits: it's more equitable, the fruit is processed closer to the farm, the product is fresher, and there is more potential for jobs and skills transfer in the source countries.
· The first factory was set up in Ghana in 1997, with the first consignment of pineapple going to Sainsbury's in 1998. The company started with 36 employees and now has over 7,000 across Ghana, Egypt, South Africa, Brazil, Benin, Senegal, Ivory Coast and the UK (head office is in Pitsford). Their products are sold in the UK, France, Netherlands, Italy and others as well as in the source countries.
· The company has been recognised for this 'adding value at source' approach and for the culture of seeking to help people in the parts of the world they are based. They aim to provide a working environment that is more like a campus than an industrial site, with sports facilities and other amenities.
· From a sustainability perspective, to reduce waste they use residue from fruit cutting to make dairy free ice cream with coconut milk and juice.
· Blue Skies works to a range of certified standards including for food safety, agricultural and environmental practices, Fairtrade.
· The company culture is to promote a way of working together with people, influenced by Anthony Pile's experience in the army of relying on the people around you regardless of their place in the hierarchy. Everyone is treated with the same level of respect and spoken to in the same way. There are no special benefits for managers such as parking spaces or closed offices. 'The fact that we are all different makes us stronger'.
· The company needs to make a profit but takes the approach of 'stakeholder capitalism' rather than 'shareholder capitalism', recognising all stakeholders in the business including employees and the environment in which the fruit grows.
· Sustainability is embedded in the culture of the business, through four 'blueprint goals':
o Zero poverty
o Zero biodiversity loss
o Zero waste
o Net zero emissions
· Initiatives to deliver on these goals include:
o Maximising recycling
o Using sustainable materials as much as possible
o Sourcing renewable energy.
o Waste from fruit cutting is either composted or sent to animal feed, thereby deriving value from it as well as reducing waste
· The Blue Skies Foundation works co-operatively with Waitrose and Albert Heijn (Netherlands) to support communities e.g. by investing in school buildings and water tanks, and running a Farm of the Year competition for schools.
· They are aware that use of plastics in packaging is not sustainable and have launched a research hub with the University of Northampton (UoN) and other industry stakeholders to look for new solutions e.g. fully compostable biobased polymers
· Another issue is plastic mulch used on pineapple farms – it reduces the need for pesticides but is hard to remove and sometimes ploughed back in. Blue Skies are funding development of a mechanical mulch lifter enabling it to be recycled, plus alternative mulches using materials including coconut coir.
· 2022 project with the University of Northampton to examine the company's social impact using a bespoke social impact matrix. This assessed the monetary impact of Blue Skies in Ghana against the UN sustainable development goals and showed monetised social value in 2021 of $11.5m pa.
· Air freight is an area the company recognises as an Achilles heel - their products have a 6-7 day shelf life so need to be transported quickly. The produce goes into the belly hold of passenger aircraft. These are flying anyway but the cargo adds to the weight. Blue Skies have signed up to the Science Based Target initiative (SBTi) and have got a draft plan to get to net zero. They are working with the aviation industry to adopt new lower carbon technology and have partnered with Airlander to contribute to development of their hybrid air vehicles.
· How to take a fair approach to delivering net zero without blocking vital market access for producers in developing countries? To address this question Blue Skies have formed the FAIRMILES Climate Justice Initiative in partnership with the UoN, Air France, KLM and others.
Q&A Session
Will Blue Skies end up with a residual carbon footprint to offset?
- Yes, but would look at insetting in their own supply chain rather than buying dubious carbon credits from elsewhere. This might include planting trees or investing in mangroves.
Does the emphasis on equity make management roles less attractive?
- The culture doesn't suit everybody, especially those more used to a traditional 'corporate' working environment. They look to promote from within, searching for potential in people rather than a narrow focus on experience and qualifications. The company helps employees pursue higher education. Very much a human approach – taking an interest in people as people. Small things like making an effort to greet people and spend time talking to them are important. Managers are encouraged to look out for those such as the young who need support and might be more vulnerable.
Many companies have a 'company ethos' designed to promote positive behaviours but it can be hard to call out bad behaviour, how does Blue Skies deal with this?
- A range of ways: employee surveys, the chairman specifically invites people to talk to him, grievance procedures, senior people are encouraged to spend time on the factory floor and take an interest. Experience shows that you can go to a factory and sense whether there is good morale or if there are issues. Staff turnover is very low and a lot of ideas for innovations come from staff in Africa and are bottom up.
Does Blue Skies have any agro forestry?
- The company has its own farms now but historically has sourced fruit from local farms. They have an agronomy team which works with farmers to achieve compliance with the various standards and pay for group certification. Growing coconut trees on some pineapple farms to get away from monoculture. Also looking at regenerative agriculture and opportunities around agroforestry as part of their biodiversity plan. There are biodiversity champions at each site to enable net biodiversity gain at sites and farms.
Has the recent regime change in Brazil affected Blue Skies' operations there?
- Mainly in terms of the exchange rate. The new regime is more sympathetic to environmental issues, but in terms of day to day running hasn't changed much.
Your main UK customers are supermarkets and we often hear that British farmers struggle due to the low margins from selling to big retailers. How does this affect Blue Skies?
- There is a commercial conflict with supermarket supply chain squeeze vs the desire for ethical pay etc. The balance of power has always been with the supermarket; margins are very tight in the food industry, yet producers are also required to meet more and more demanding standards. Some retailers are better than others, some use more ruthless and aggressive tactics. One example of better practice is Albert Heijn in the Netherlands, who are well ahead in terms of consultatively engaging with suppliers and working towards a long term partnership. A lot of retailers have annual tenders so there is no long term certainty for suppliers.
As conscious consumers how could we know if we are buying a Blue Skies product?
- This is difficult as traditionally fruit and veg produce is sold under retailers' own brands. Blue Skies don't supply the whole range of cut fruit for any retailer so adding messages about sustainable production to packaging might raise questions about products from other suppliers.
Do you put LEAF certification on packaging?
- Not usually - this is the decision of the retailer, though some are starting to go down this route.
Update on CA-WN summer activities
We've been relatively quiet over the summer but not completely inactive:
· 2 members attended Shambala festival as part of a Friends of the Earth (FoE) campaign. CA-WN is a local climate action group affiliated to FoE which brings us benefits including free public liability insurance, access to good quality training and education. There are bi-monthly networking meetings online with other local groups from the East Midlands – please contact Jane if you are interested in finding out more about any of this. We'd be keen to open up opportunities such as Shambala.
· We attended a climate fair at Kilsby which featured talks and stands from a range of organisations. We are keen to support local events whenever we can so if you know of one in your area get in touch.
· We've been keeping up engagement with West Northants Council and with other local groups. Harry had a meeting with Harborough Woodland Community Volunteers, who were mainly interesting in picking our brains about Ghost (the software we use for CA-WN Exchange). They do very good work around water quality in their area and we would love to do something similar. We could do more to liaise with other stakeholders and understand the quality of our water. To do this would require additional resource as existing active members are already fully committed. More about this and other roles at the AGM next month.
Coming up
· We are attending a Climate Change Fair in Syresham on 22 September
· We are planning to attend the WNC full council meeting on 28 September to speak in support of motions on air quality and climate change. (Motions can be seen here)
· On 28 September, ahead of the WNC meeting, there will be a peaceful family friendly gathering (arrive from 4pm) outside the Guildhall. This is being co-ordinated by the Umbrella Fair Organisation to highlight the issue of air quality in our area. Sign up link http://umbrellafair.org/1000voices
· CA-WN has been offered the opportunity to work with UoN illustration students on projects to develop display or public awareness materials. We did this last year and it was a very rewarding experience.
Date of next meeting and Annual General Meeting:
Thursday 19 October - Please note the meeting will start 15 minutes earlier than usual, at 7:30pm.
Agenda:
7:30 – 8:00 Annual General Meeting including election of officers
8:00 – 8:45 (approx.) Guest speaker Natasha Caton (The Loving Chef)
8:45 – 9:00 Updates on CA-WN projects and activities