CA-WN Monthly Meeting notes 20 April 2023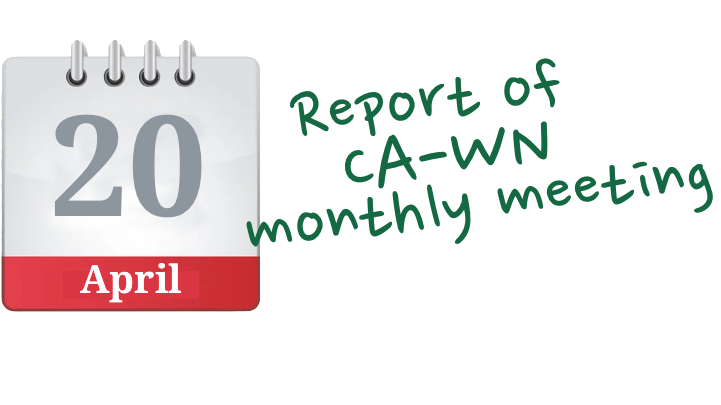 This month we had a presentation on 'How UK businesses can do better for Society and the environment' from Alexina Cassidy.
This meeting was recorded and can be watched on the CA-WN YouTube channel, and you can see Alexina's slides here.
Present: Alexina Cassidy, Briony Askew, Clare Robertson-Marriott, Clare Slater, David Garlick, Eileen Daley, Ella Mansfield, Eugenia Wilson, Harry Mellor, Hilary Haynes, Leonie Beale, Louisa Fowler, Mike Longman, Naree Lee, Richard Hollingum, Rupert Frost, Rupert Knowles
Apologies: Dave Anderson, Emmie Williamson
'How UK businesses can do better for society and the environment'
Presentation by Alexina Cassidy - Alexina has been retraining to enable her to provide consultancy advice and support to businesses to improve their environmental performance.  She focuses primarily on working with SMEs (small and medium-sized enterprises).
CA-WN believes that all sectors of society must travel together towards a future where we are no longer contributing to the climate and biodiversity crisis, and businesses have a big part to play in this transition.
This is a summary of the points Alexina made in her excellent presentation:
· Businesses can make a big difference and have a responsibility to address carbon emissions as well as justice issues that may arise from their operations.
· 99% of UK businesses are SMEs. These generate over half of UK GDP and employ 16m people.
· Areas of business operation that can be looked at to improve social and environmental performance:
- Governance – legal & corporate structure
- Employees
- Customers
- Community & Suppliers
- Environment
Governance i.e. mission and engagement.
· Not all companies have a mission but all should think about their purpose, vision and plan. Is the business led from the top or more egalitarian?
· Ethics and transparency – most companies will have a code of ethics and/or code of conduct; a good business is happy to be transparent about how they conduct themselves and about their financial affairs.
· Legal commitment – it's easy to set up a company using a standard form of Articles of Association without even reading the document. The Better Business Campaign is seeking to amend the Companies Act to create a legal requirement for businesses to take ownership of their social and environmental impact.
Employees
· Treatment of employees is an important factor in the social impact of companies.  Does the business provide financial security to employees eg by being a Living Wage employer?
· Business should treat all types of employee well and fairly, including contractors and part time workers.
· Incentives like bonuses or profit share for everyone (not just the top few)
· Avoid excessive income inequality
· Health, wellbeing and safety: take care of employees' mental health as well as more traditional 'health & safety'.
· Career development – enable employees to raise issues and concerns, provide training and mentoring.
· Flexible working practices, whether working from home or in the office, help to make people fully engaged in the success of the business.
· As an employer can the business hire people who might struggle to enter the job market – e.g. people with disabilities.
· All of the above should lead to employee engagement and satisfaction.
Customers
· Enable customers to raise complaints and concerns; treat them with respect.
· Have strong data security and privacy controls
· Customer protection – don't seek to make excessive profits at the expense of the customer.
· Consider under-served populations and how the business could improve the life of low income individuals or people who are not able to access products and services easily
Community & Suppliers
· Diversity, Equality & Inclusion is key.  Look for suppliers with a diverse board and better gender equality.  This has a business benefit, as teams work better if there is a true mix of people.
· The business can have a positive economic impact eg by using local suppliers and having inclusive tendering processes.
· Think about which bank and pension scheme match the business's ethics.  Use the Make My Money Matter and Bank Green websites to see what investments your bank has (this is good for individuals as well as businesses).
· Civic engagement & giving – encourage employees to volunteer, whether as a team, or on a more long term basis for example as a school governor or an officer of a charity or voluntary group.  One company Alexina works with has given one of their employees back the time he spends volunteering at a food bank at the weekend.  Giving by a business might be time and materials or expertise as well as money. [See CA-WN Exchange's Business as a Force for Good features for examples of companies that are working to make a difference]
· In summary - ask your suppliers to have the same high ethical and environmental standards as you do.
Environment
· Often the most thorny topic as it is hard to do well.
· Where to start? A good place is measuring the business carbon footprint. Online tools are available or environmental management consultants for bigger companies.  Assessment needs to include production processes, as well as premises efficiency and facilities management.  A good assessment will measure GHG emissions and supply chain footprint.
· Businesses should seek to minimise transport and movement of goods. Transport includes employee travel, so encourage employees to car share, cycle, walk or use public transport, and provide EV chargers at the workplace.
· Other areas to look at are waste management, recycling, use of environmentally friendly materials
There was a lively Q&A session after the presentation, this is a very brief summary:
As a business why should I change?
· It's good for the business to purposefully adopt ethical best practice
· Helps to attract and retain talented employees who want to work for a company with positive values
· Build customer trust and loyalty
· Easier access to funding and lower financing costs – lots of ethical funds looking for sustainable businesses to invest in.
· Reduce energy usage and costs
Speakers for future meetings:
May - Claire O'Brien, Environmental Sustainability Manager, Grand Union Housing Group, on "Making retrofit messaging relevant to your audience".
June - Dr Caroline Kuzemko, Warwick University, on "The Politics of Climate Change"
If there are topics you would like to see us cover at future meetings, or you know of someone who could speak to us on an environmental or climate related topic, please let us know.
Events:
A number of CA-WN members have recently attended local events designed to bring together groups with shared aims and focus:
· NN Environment Network – for groups in West Northamptonshire.  This includes Transition Town Northampton, South Court Environmental, the Umbrella Fair, Green Party, XR and others.  The group is fairly new so still working out its role, but it has been good to find out what other groups are doing and as a minimum we can support and share each other's work.
· Stronger as One – organised by a Kettering Climate Action group.  Good turnout for the first meeting from across the county, which was dedicated to getting views about 'what needs to happen' and 'what can we do'.  It is proposed that the group will focus on supporting the efforts of the Wellingborough Save our Trees group initially.  The next meeting will be in early June.
Details of all local events relevant to CA-WN and our supporters are always posted on the What's On page on CA-WN Exchange.  Please keep an eye on this as it is updated frequently. If you know of an event that we should add, please send details to secretary@ca-wn.org.
AOB
· Ella reminded us that we had intended to put up details of any tasks or opportunities to volunteer to help CA-WN on CA-WN Exchange.  Watch this space!
· David is looking at planting wildflowers on land around Weston Favell parish hall
· A Friends group is being set up to look after Billing Road Cemetery, using a Gardens Trust Community Grant Award.
Date of next meeting
Thursday 18th May 7:45pm – 9:00pm
Climate Action-West Northamptonshire Monthly Meeting May 2023 Tickets, Thu 18 May 2023 at 19:45 | Eventbrite