CA-WN monthly meeting notes 19 January 2023 *link to slides added*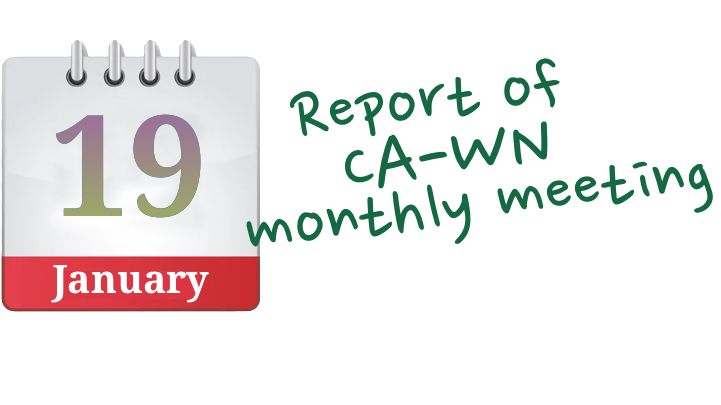 Present: Alexina Cassidy, Alix Harrower-Dean, Axel Segebrecht, Briony Askew, Chris Leng, Clare Slater, David Garlick, David Wragg, Ella Mansfield, Emmie Williamson, Harry Mellor, Jane Wood, John Hunt, Michael Lawrence, Mike Longman, Orianne Neyroud, Patsy Hollingum, Peter Nalder, Richard Hollingum, Stan Quirey
Apologies: Clare Robertson-Marriott, Dave Musson, Jonathan Harris, Leonie Beale, Maria Lee, Rupert Frost, Rupert Knowles, Russ Hickman, Sue Carverhill
Thank you to everyone that came to our January meeting, it was great to see several new faces joining us.
Summary of 2022
We started with a short summary of CA-WN's activities in 2022, which included:
• 5 issues of CA-WN Exchange
• Outreach events including:
 • HOP22 Climate Fair
 • Grow Green Together Conference
 • Great Big Green Week events
 • 6 Climate Cafes
• Claim Back Your Space booklet
• 6 statements to WNC committees
• Building Resilience
• Air Quality monitoring
• Developing as an organisation
The challenges of creating a sustainable NHS
Our guest speaker, Dr Paul Slater, then gave an excellent presentation about sustainability in the NHS and in particular within his speciality of anaesthesia. I highly recommend watching his talk back on YouTube  (starts about 7 minutes in). You can also view the slides here.  
Dr Slater gave many insights into the work being done within the NHS to reduce its carbon footprint (it is responsible for 3% of all UK GHG emissions). Changes within the field of anaesthesia include switching away from the most damaging anaesthetic gases, reducing use of nitrous oxide and new technology to capture gas that would otherwise be released into the atmosphere. It was particularly pleasing to hear that it has been possible to completely replace one gas (ethyl chloride) with a cold metal stick. Watch the video to find out how!
Work is also being done to reduce unnecessary use of single use plastics, and to promote other ways of cutting emissions associated with medical treatment, including carrying out consultations remotely where possible. Dr Slater has also founded a Sustainable Surgery Group at Northampton General Hospital.
CA-WN Exchange
CA-WN recently launched CA-WN Exchange online, where articles, personal stories and original writing are now published. CA-WN Exchange also provides a forum for discussion of climate and biodiversity issues and initiatives. JW thanked the editorial team for their work in developing CA-WN Exchange, first as a high quality newsletter and now in its new incarnation.
An email update from CA-WN Exchange will be issued on the first Saturday of every month. Comments, feedback and suggestions for topics to feature are very welcome.
Building Resilience
HM gave a short overview of the Building Resilience project that emerged from examining how to help alleviate fuel poverty. During the last couple of months we have been undertaking continuous collection of data on temperature and humidity in a variety of homes, and also using thermal imaging and smoke pens to help identify sources of heat loss. There will be a summary report in February.
Looking forward to 2023
We will be building on the good work already underway, aiming to increase our reach and public engagement, as well as continue to keep tabs on the progress of West Northants Council.
Monthly meetings in 2023 will be a bit different, as we plan to invite a guest speaker every month. Suggestions for speakers welcome – in February we plan to have an expert speaker on energy and battery storage.
We also intend to hold more in-person meetings this year – the monthly general meetings will remain online but it will be great to have some face to face get togethers too, both purely social and more formal.
AOB
If you are in Northampton on 28 January please support XR at their event to unveil a plaque drawing attention to the serious issue of raw sewage being dumped into waterways https://www.facebook.com/events/554785709879209
Date of Next Meeting
Thursday 16 February 7:45 pm