CA-WN AGM and Monthly Meeting notes - October 2023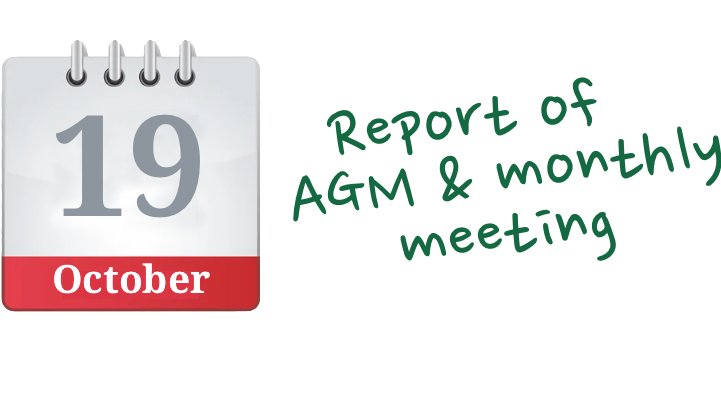 Our October meeting started with the AGM including Election of Officers, followed by a presentation from Natasha Caton of Sol Haven on Sustainable Food, and finally a short update on CA-WN activities and events.
The meeting was recorded with the consent of those present. Separate recordings of the AGM and Natasha's presentation are available on our YouTube channel.
Annual General Meeting minutes
Present: Briony Askew, Clare Slater, Ella Sage, Harry Mellor, Jane Wood (Chair), Leonie Beale, Mick Lorkins, Rupert Frost, Rupert Knowles.
This link to the meeting papers had been circulated ahead of the meeting and the papers were also shared with attendees on the call.
Agenda items
1. Apologies for absence: Alexina Cassidy, Clare Robertson-Marriott, Maria Lee, Peter Nalder
2. Minutes of last AGM: No issues raised.
3. Chair's Report: JW gave a brief summary:
For an organization whose seed was planted 4 years ago and which has only been formally constituted for 2 years, we are making good progress, although of course there is much more to do. In the last 12 months:
· CA-WN Exchange is maturing – please do share it with people you know who might be interested.
· We've been actively working to develop relationships with other local groups who have similar interests – within WN through our new Outreach Officer, Ella Sage and by attending climate events, and in neighbouring areas like Market Harborough and Milton Keynes
· In terms of 'getting stuff done', our AQ monitoring project concluded. We are going to use the data gathered to support future campaigning on clean air.
· We also did a pilot programme of home assessments under the Building resilience project which we plan to extend this winter.
· Guest speakers at our monthly meeting are a new feature and we've heard from some excellent local people this year.
· And last but not least, we continue to work hard to hold West Northants Council to account by regularly turning up to their public meetings to speak and reporting on their activities in CA-WN Exchange.
4. Treasurer's Report: HM summarised:
We have two annual fixed overheads; our Zoom subscription, which has to date been paid by donations; and the cost of the Ghost platform on which we run CA-WN Exchange. The latter was paid for from an £8,000 grant for the Building Resilience project, we have spent a little of that so far on equipment including a thermal imaging camera which we can help people use.
There is more expenditure expected when we get an invoice from Build Test Solutions for the home surveys completed earlier in the year. The remainder will be used to fund promotion and other costs for Building Resilience as the plan is for householders to pay for their own surveys in future.
5. Election of Officers
There are four formal officer roles specified in the constitution. The following were re-elected for 2023/24:
· Chair: Jane Wood – Nominated HM; seconded RK
· Treasurer: Harry Mellor – Nominated JW; seconded BA
· Secretary: Jane Wood – Nominated BA; seconded CS
· Membership Secretary: Alexina Cassidy – Nominated JW; seconded HM
These were unanimously approved.
6. Election of Steering Committee members
There are currently 6 Steering Committee (SC) members in addition to the 3 people who hold formal officer positions. The SC meets once a month online, separately from the monthly general meetings, and exists to make decisions and determine strategy for CA-WN. Any member of CA-WN can attend SC meetings as an observer.
The constitution allows us to have more SC members (within reason). JW asked if the SC members present wished to stay on the committee, all confirmed they did:
· Briony Askew
· Clare Slater
· Rupert Knowles
JW to follow up with those SC members not present (Clare Robertson-Marriott, Jonathan Harris and Orianne Neyroud).
Mick Lorkins suggested he may be interested in joining the Steering Committee – JW to send him details of the next SC meeting to attend before making a decision.
7. Other roles
CA-WN's constitution allows for other roles, outside of the mandatory ones and which are not part of the Steering Committee. Some of the SC members have additional roles, for example RK is CA-WN's Farming Correspondent, and there is a small editorial team for CA-WN Exchange which currently consists of HM, AC, CS and JW. If anyone has any interest in joining this team or contributing an article to CE please get in touch.\
Ella Sage kindly volunteered to take on the role of Outreach Officer this year and agreed to continue in that role.
We are also developing a possible Sustainable Travel Officer role.
There are plenty of other subject areas that would benefit from more focused attention than we are currently able to give them – for example, community energy, water quality and food security. Interest in these areas doesn't need to mean a long term commitment – it could be a discrete one-off project such as a survey or piece of research. Do let us know if you are interested in doing something like this.
Save Our Street Trees - One opportunity that has come our way recently relates to trees. Some of you may have come across the very excellent organisation Save Our Street Trees (SOST) which was set up 7 years ago by a Northampton resident, Alice Whitehead, because she was concerned at the loss of so many urban trees. Since then she's been involved in numerous tree planting projects, has provided advice to lots of community groups about trees and set up a small network of Tree Guardians. She also created a SOST website which is a very useful resource for information and guidance about tree-planting and management, especially in the urban environment.
Alice is having to step down as Chair of SOST due to work commitments and hasn't been able to find anyone to take over so the organisation will sadly fold. Rather than see all her work disappear, CA-WN has offered to pick up as much as we can of the group's work. We will, for example, take over hosting the SOST website in the next few months. Volunteers were requested to take over some of the other work – ML kindly offered. JW to share details with ML.
8. DONM: The 2024 AGM will be held on Thursday 17 October 2024.
---
October General Meeting minutes
Attendees present at the AGM were joined by Dave Anderson and Jonathan Harris.
Sustainable Food
Natasha Caton, 'the Loving Chef', gave a talk on the topic of 'Sustainable Food – you are what you eat', followed by a question and answer session.
· Natasha is co-founder of Sol Haven, a community garden and award winning permaculture site in Moulton. Sol Haven is a 0.75 acre site based on an 80 acre farm, which is farmed traditionally, though the farmer is conscious of what Sol Haven do and is making some changes.
· The community garden is opened twice a week on Monday and Tuesday with volunteers invited to help in the garden and learn about growing food and what to do with the produce.
· Natasha has been a chef for around 25 years and a vegan for about 9 years.
· Sol Haven grow about 80% of their own vegetables. These are used on site and given to volunteers. In the summer they also sell through a farmers' market in Olney.
· Sol Haven offers a free 12 week course called Ploughing the Mind for people struggling with mental well-being or isolation, funded by a National Lottery grant.
· Natasha grew up on a sustainable farm, though she didn't appreciate as a child the value of everything being home grown and homemade. However it all tasted good and this is where she learned her love of food.
· At Sol Haven they grow over 50 varieties of vegetables, many in a polytunnel funded by the National Lottery. They are learning as they go how to avoid waste, though sometimes volunteers can make mistakes such as planting 100 lettuces instead of 10, which all came through together and were a struggle to use up! Some imaginative solutions though including offering Pick Your Own on the local Facebook site.
· Reducing waste is a key focus for sustainable food - UK consumers waste about 30% of what they buy. Ways to address this include batch cooking (Natasha is currently using up green tomatoes by making chutney for example). A lot of produce is frozen – in glass to minimise plastic waste and for convenience as the containers can go straight into the oven or microwave.
· Another key skill is to budget and plan meals, then stick to the shopping list.
Food waste can be affected by the shelf-life of produce – for example an experiment Natasha did buying English strawberries from different supermarkets found that some (M&S) lasted 10 days, others only 3 days.
· It is also good to support local businesses where possible - check out Christmas markets soon for good quality local produce.
· Eating more plant-based food leads to a more sustainable diet due to the higher inputs needed to produce meat, and has health benefits too. Natasha found that becoming vegan improved her health and allowed her to reduce medication she was taking. Though a note of caution, some plant-based foods such as meat replacements are highly processed and therefore not so sustainable or healthy as home produced food.
Summary of Q&A Session
What do you grow at Sol Haven that might be unexpected in the UK?
They grow kiwi fruit in the polytunnel, the plant is 3 years old now. They also grow sweet potatoes, 2 varieties of melon and a Japanese variety of potato.
Can you recommend any vegan recipe books?
Natasha has written a book herself, "The Loving Chef - 31 quick and easy vegan recipes" and offered signed copies to CA-WN members for £10, a considerable discount on the Amazon price of £31. She also recommended two other books:
"Medical Medium - Life Changing foods" by Anthony William, and "The Medicinal Chef" by Dale Pinnock. These are not purely vegan but good on what to eat for health and well-being.
Given your thoughts about highly processed vegan meat alternatives, what's your opinion on alternative milks?
Best to do your own research on commercially available milks, but Natasha shared a recipe for making oat milk at home (which she has kindly given permission for us to publish on CA-WN Exchange).
Do you heat the polytunnel in the winter?
They've tried different ways of doing this, including using chicken manure which failed as the polytunnel was too big, so currently it is not heated. They do collect the water runoff from the polytunnel and other outdoor buildings to use on site. In winter they can grow and harvest leafy greens like swiss chard and spinach.
The problem is more that the polytunnel gets too hot in summer rather than the cold in winter. RK suggested, based on his experience as a grower, that putting polytunnels on a slope allows hot air to escape from the higher end and encourage a flow of air.
---
CA-WN general update
Upcoming events
There are several good local events coming up, including:
- The launch event for TANZ (Towards Net Zero) West Northants, which will make available a range of free resources, research and advice for charities and businesses.
- Maria Lee, CA-WN member, is running a free Climate Fresk session on Saturday afternoon – this is a collaborative game aiming to create discussion and understanding of the issues around climate change. She is hoping to put on more sessions in future, please get in touch if you are interested.
Other events are detailed on the CA-WN Exchange Whats On page.

Building Resilience project.
We are expecting to receive the householders' reports for the 10 pilot home surveys by the end of this month. Then planning to put together a community information pack to encourage homeowners to get their homes assessed in the coming heating season.
Our partners in this project, Build Test Solutions, are an industry leader in the field of home energy measurement. The follow up to initial surveys will be a more in depth survey to look at how a particular house might be improved to get the best value for money.
DONM – Thursday 16 November. The guest speaker at this meeting will be Jen Gale, author and podcaster on the subject of living a sustainable-ish life.
Speakers for 2024
Thursday 18 January – Green Welford will give us a bite size Carbon Literacy training session.
Thursday 15 February – Alison Holland from Brightwayz, an active travel Community Interest Company operating in North Northants, will talk to us about their work.